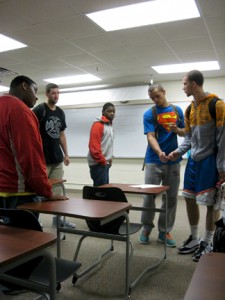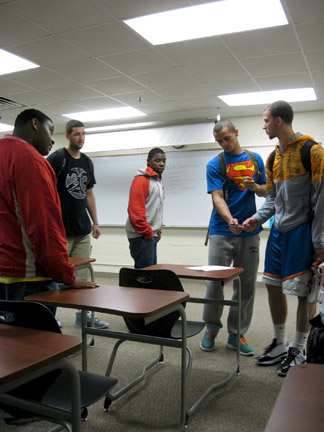 Out of the numerous clubs at Georgia Highlands, Brother 2 Brother is unique in its focus on black and Latino males.
Brother 2 Brother serves as a support for blacks and Latinos who, statistically, are at a disadvantage educationally.
Josh Brown, Floyd campus president of Brother 2 Brother, says, "It's basically an organization to increase retention, enrollment and graduation rates." He adds that he is proud to be a part of the club.
"It helps you become a leader. It provides academic support, advising, and financial advice," says Jonathan Hershey, dean of academic humanities and Brother 2 Brother adviser. He also says that the club focuses on a brotherhood ideal.
Members help each other by giving others rides to school, studying together and even helping in issues outside of school. If members are struggling in a class, they feel the confidence to talk to another member for help.
"We also strive for community service," says Brown.
Last year, they held a clothes drive, helped feed families for Thanksgiving and gave presents to underprivileged kids.
This year, they have several ideas such as going to elementary schools and presenting the basketball team to kids. They also plan to have a party open to students as a fundraiser.
Brother 2 Brother is part of African American Male Initiative (AAMI) which recently held a leadership conference in Atlanta.
On the weekend of Sept. 27-29, 10 members of Brother 2 Brother attended the conference.
Brown attended the leadership conference and said, "It was an eye-opener." He also stated that he learned a lot of leadership skills while he was there.
Brother 2 Brother meets every Monday at noon in room F-139 and is open to all blacks and Latinos who are interested.
The club is present on many campuses and currently has 110 active members.