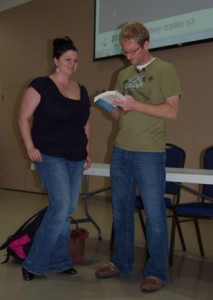 Kelsey Timmerman, author of the book "Where am I Wearing?" was in Rome for numerous speaking engagements on Oct. 9, including a stop at GHC's Floyd campus.
Timmerman's goal in writing the book was to close the gap between consumer and producer which exists in today's garment industry after the globalization that occurred in the '80s and '90s.
His non-fiction exposé takes the reader on a tour of some of the nations responsible for producing the clothes American consumers buy. Among the places he seeks to familiarize readers with are Bangladesh, Cambodia and China. The experiences Timmerman relates to readers include descriptions of the factories in which people work, as well as encounters with the living environments of some of the garment workers.
The book does not stop at describing living and working conditions, though. Throughout the text, readers are introduced to the people who live and work in these places, and Timmerman takes the time to focus on character development to enhance the connection between reader and subject.
"I went to Honduras, and I met a garment worker named Amilcar. I met him for 15 minutes, and then I left and didn't learn anything about him. He kind of inspired all of this," Timmerman said in an interview with the Six Mile Post. He went on to talk about tracking Amilcar down again in California, demonstrating the fact that the human connection was a motivating factor for him in writing "Where am I Wearing?"
Timmerman's personal story is somewhat unusual for a columnist turned world-traveling author. He cites his indecision in college coupled with an affinity for anthropology, which ended up being his major, as reasons for travelling the world and writing his book. "I get called a journalist, but I didn't major in journalism. I didn't even study that stuff, and I got into it," he said.
Timmerman does not promote all boycotting of brands that employ workers in foreign sweatshops but encourages smarter consumerism.
"For the average consumer, I think that a boycott is a really passive way to [affect change]," he said. "I'm always looking for active ways to make a difference in the world as opposed to not doing something."
He encourages people to support companies that are more transparent in terms of their policies regarding competitive wages, working conditions and advancement opportunities for garment workers in developing countries.
Timmerman did note that there have been successful boycotts in the past, including one instance involving student protests over the wages of Honduran workers employed by Russell Athletics. "I think the difference was that there was better communication between the workers and the student movement," he said.
"It's really tough to make sense of [globalization]," Timmerman said. "I know we need to start thinking about people and about how this stuff impacts people's lives…and connecting producer and consumer."
Timmerman suggests that people wear "one thing a day" that is made by one of the more transparent companies in order to make a difference. He offers his blog, www.whereamiwearing.com, as well as www.ethixmerch.com as resources that people can use to find some of those companies.
As a columnist and author, Timmerman offered some words of advice for young writers. "I think one of the important things is to have an interest and passion in a subject. I think the curiosity and the passion are almost as important, if not more important, than actually having the tools in place," he said.
"Where am I Eating?"—a similar tour of the countries that produce American's foods—will be Timmerman's next project. The work-inprogress includes details of Timmerman's trips to Colombia, Costa Rica, Ivory Coast, Nicaragua and China and is set to be available for purchase in May 2013.
In addition to speaking to an audience of students in the Lakeview Auditorium at GHC's Floyd campus, Timmerman spoke to students at Armuchee and Pepperell high schools as well as at Darlington School.