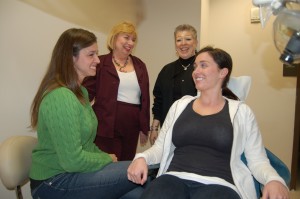 Georgia Highlands College has a new dean of health sciences, and her name is Janet Alexander.
With a history in Health Sciences education at the University of Alabama at Birmingham as well as Samford University (also in Birmingham), Alexander offers to GHC the wisdom and experience of a seasoned administrative professional.
"I was at UAB for eight years and Samford for 21, and I had been in an administrative position at Samford for the last few years over their accelerated second-degree R.N. to B.N. program," said Alexander.
This program provides the opportunity for students who already have bachelor's degrees but want to become nurses to take an accelerated course load in order to reach their goal.
Alexander's experience with non-traditional educational programs could be put to good use at GHC, with its diverse population of students (including many non-traditional ones).
The dean also helped Samford in its nursing school's transition from a two-year to a four-year program, a transition similar to the one through which GHC is currently going.
"We've done a lot of innovative things trying to offer opportunities for people who wanted to become a nurse or wanted to improve the degree they had in nursing," Alexander said.
Though somewhat unfamiliar with Rome, Alexander is not a total stranger to the city. One of her sons did some modeling in the Rome area through a local agency when he was in junior high.
"It was appealing in terms of where it was, and the job was very appealing," Alexander said of her initial impression of GHC's interest in her. "It was one of those things that just felt like the right thing to do."
Alexander, who holds a doctorate degree in education and a master's degree in nursing, knows the job security the nursing field offers. "I would strongly consider a nursing degree. I have not had anybody in the last 29 years who's not been able to find a job within three months. Many of them have job offers before they even graduate," she said.
Alexander has been impressed by the Dental Hygiene degree program at GHC's Health Sciences School. "The dental hygiene program seems to be in excellent shape to me," Alexander said. "They also run a clinic through the dental hygiene program, which is a great community service."
Concerning students who are considering Health Sciences as a major, Alexander said, "It's a great way to make a living, and it's very welcoming to men and women."
According to a study released in January by the Georgetown University Center on Education and the Workforce, the nursing field offers job security after graduation, boasting low unemployment rates among recently-graduated as well as more experienced nursing majors.
The study concluded that the unemployment rate among recent college graduates with a nursing degree was four percent.
The unemployment rate among experienced college graduates with nursing degrees was found to be 1.9 percent.
Those with graduate degrees find themselves in a group in which the unemployment rate is only 1.6 percent. All three of these numbers fall substantially below the average.