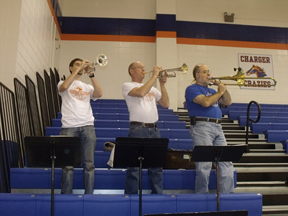 A new music major program is planned to start in the fall of 2013 at GHC.
Sam Baltzer, professor of music, came to Georgia Highlands College from Shorter University at the beginning of the 2012-2013 school year and is currently working to have the music program ready for the fall.
Baltzer is establishing new programs and the pep/jazz band at GHC is one of his first efforts thus far.
The band consists of GHC students and members of the local community with approximately 14 members.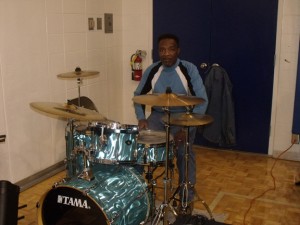 The pep/jazz band first performed during the fall semester of the 2012 and now performs during each home basketball game.
Baltzer's goal for the next year is to have a full jazz band.
"The pep band music is to rally the fan's spirit before the game. Jazz literature is more rigorous and will be more challenging.
"Currently, the band can play music from the 1930's and 40's, such as Glenn Miller's, In the Mood, String of Pearls and Tuxedo Junction," said Baltzer.
Beyond the jazz band, Baltzer hopes to have a choir as part of the music program in the 2013-2014 school year.
Baltzer has lived in Rome for the past 26 years and enjoys being involved in R.O.M.E. (Rome's Own Musical Ensembles), a community non-profit. He serves as artistic director and conductor for their music ensembles.
Baltzer also serves as community of arts liaison and will be establishing and building relationships within the local community.
Dimychael Ross, a first- year student and member of the men's basketball team, said about the pep/jazz band, "It makes it more college-like. The different types of music can relax you or fire you up. It's nice."
Anyone who is interested in the GHC music program should contact Baltzer at [email protected].