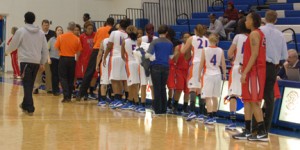 On Feb. 26, Georgia Highlands hosted their first GCAA Conference game in history with the Lady Chargers versus the Lady Jets from South Georgia Technical College.
Both teams came out playing hard in the beginning, and by halftime, the Lady Jets were leading the Lady Chargers 35-32.
After the half, the Lady Jets' offense seemed unstoppable, which led them to a 14-point lead, the biggest difference of the game.
The Lady Chargers fought hard to get back the lead, but the Lady Jets outmatched them and had ample substitutions in comparison to the short-staffed Lady Chargers.
Within the last few minutes of the game, the Lady Chargers fought their hardest, trying anything to regain the lead, but they couldn't overcome their mid-game deficit.
The Lady Jets won the game 76-67.
Gabreille Kendall led the Lady Chargers with 20 points, while Portia McCray put up 21 points for the Lady Jets as their top scorer.
Though the Lady Chargers' spirits were low after the game, Assistant Coach Demetrius Colson was still very optimistic about their inaugural season and their chances next year saying, "We only lost seven this season. We're going to come back next year ready to play with another good, optimistic group."
Freshman Shakierya McClendon, who posted 17 points for GHC, agreed with Colson stating, "We're going to win it all next year."