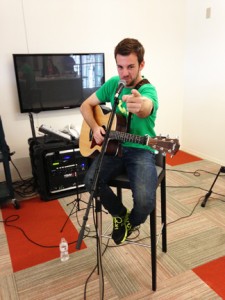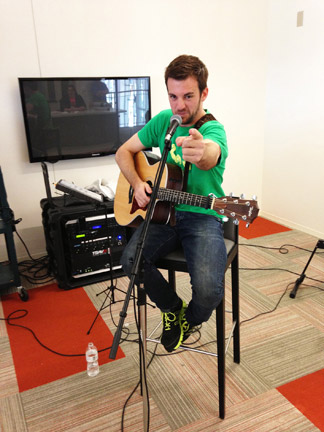 The Cartersville campus welcomed its first comedian since the opening of the new student center with a performance by Bryan O'Sullivan on March 12.
But O'Sullivan is not a typical comedian. Like most comedians, he travels across the nation, sharing his unique sense of humor with anybody who is willing to listen, but instead of standing there telling his punch lines to the crowd, O'Sullivan does something that not many comedians do; he sings his jokes.
Armed with a guitar and an iPod, O'Sullivan sings parodies of today's popular songs, touching on subjects from the Jersey Shore to dead celebrities.
O'Sullivan never planned to be a comedian when he first started out, but instead wanted to be an actor. "When I first moved to Los Angeles, it was harder to act trying to do someone else's work, so I started creating my own work, then accidently fell into doing this full time," he said.
The guitar was added later to the ensemble. "I wrote songs when I was a little kid because I wanted to be like Weird Al. Then in college I realized if I learned guitar I didn't have to play these stupid background songs on my computer when I sang my parodies, so a friend of mine taught me how to play the guitar," O'Sullivan said.
The show had probably the best turnout of a school-sponsored speaker Cartersville campus has had. Most that came stayed for the whole show.
Not only were the jokes funny, but O'Sullivan interacted with the crowd, answering questions and shooting out snide rebuttals to any outbursts from the crowd and even asking the crowd to help Mad-lib a song.
Overall, O'Sullivan's performance was a huge success, and many students would want to see his unique style of comedy again. The fact that the crowd demanded an encore after his set was proof of that.