Writer's workshop brings students & faculty together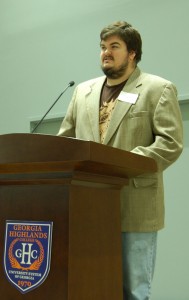 Leverett Butts was the keynote speaker at the inaugural "Charge into Writing" writers' conference sponsored by the GHC Writers' Collaborative. The event took place on Friday, March 22, in the Lakeview Auditorium.
Twenty-one people attended the conference. There were five speakers, many of whom work at Georgia Highlands. After each speaker, there was time allotted for questions from the attendees.
Butts, an assistant professor of English at North Georgia State College and University in Gainesville Ga. and is a nominee for Georgia Author of the Year.
He read a short story from his collection, "Emily's Stitches: The Confessions of Thomas Calloway and Other Stories."
Butts suggested people-watching for plot and character inspiration and tinkering with any good ideas.
"When you're alone with your keyboard, you're only writing for yourself," Butts said.
Jessica Lindberg, English lecturer on the Cartersville Campus of GHC, spoke about poetry. She read several of her own poems with topics ranging from hating mushrooms to playing Minecraft.
She spoke very fondly of writing and poetry and encouraged the audience to "treat writing like work" in order to get their best results.
Jake Sullins, assistant professor of English on GHC's Marietta and Cartersville campuses, shared a short story he had written. During the Q&A time, Sullins emphasized the importance of writing from experience.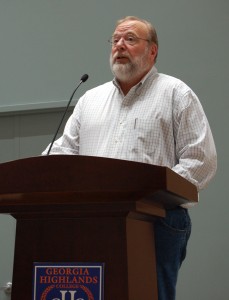 Larry Stephens, an assistant librarian for public service on the Rome campus, was the only non-fiction writer at the conference.
Stephens spoke about the pros and cons of self-publishing, which would be useful if "writing for yourself."
Raymond Atkins, an associate professor of English at Georgia Northwestern Technical College, read from his book "Camp Redemption," winner of the 2011 Ferrol Sams Award for Fiction.
Atkins spoke to the audience about the difficulty of getting published. He stressed not giving up, because "no one wants to see you in print more than you."
The event was well-received by many. Annie Spurlock, a sophomore at the Floyd campus, said, "I found it very interesting, and it had great advice for anyone looking to further their writing career."