Georgia Highlands College's Floyd campus library encourages blind dates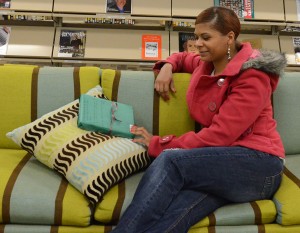 Looking for someone to spend free time with? Someone who listens without judgment? Or just for someone to cuddle up with? The Floyd campus library has several candidates for those who are looking to have a good time.
For the spring semester, the library is offering students, faculty and staff the chance to go on a "Blind Date with a Book" of their choice.
Participants can choose from a wide variety of books that are wrapped in colored paper. The books have a few hints written on the wrapping to give clues into what the book is and what it might be about. Participants then select the book that they might be interested in and check it out at the checkout desk.
Melissa Jones, library assistant, discovered the idea online. She stated, "I love the element of surprise and believe it will attract others to want to participate."
Participants can also choose books that they think will fit well in the blind dating pool. They can come up with clues and have a book wrapped and set out for others to pick from.
Elijah Scott, director of libraries, said, "We want students to get the chance to read for fun and not just because they have to for class."
Theresa Kellett, administrative assistant to the director of libraries, thinks the event is going really well. "We started out with 20 wrapped books. Then we set out seven additional books, and now we are planning to wrap even more," she stated.
For now "Blind Date with a Book" is only on the Floyd campus, but if the event continues to go well, it might be on other GHC campuses. There is also the chance that the library will bring back the event for future academic semesters.