Gary Johnson performs on Floyd campus
Students enjoyed a little taste of some not so ordinary music in-between classes as Gary Johnson performed in the student center at Georgia Highlands Floyd campus on Oct. 16.
Johnson tours colleges around the country. He performs a variety of different music as the students text him their requests.
He is a tech performer, meaning he uses looping and creates different beats and sounds on his own.
He was recently named Campus Activities Magazine 2014 Musician of the Year.
Johnson started getting into music at the age of two because his parents were in a band.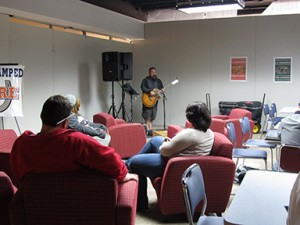 He can play a variety of instruments including guitar, piano, banjo, ukulele, and more. He taught himself the tech aspects in his performance.
Johnson said, "I used to do it with tape decks, so when they actually came out with the technology to make this possible, I really started to embrace it."
Johnson used to tour with the popular '80s band, Boston, but he says touring colleges is one of the best things ever.
"My favorite part is when the crowd is singing along much louder than my speakers, and they are going crazy," he said.
He is pleased that the students take time away from their busy college schedules to just take the time to watch him.
The students loved Johnson and his music. They were singing along and requesting a lot of songs for him to play.
He has a new CD coming out this year, with the bass guitarist of The Fray and the drummer of Seether.
Students can go to Johnson's website gjsolo.com to download a copy of his CD, "Tracing Starlines With Empty Hands."
Also, he has a YouTube for mash-ups of other songs at www.youtube.com/gjsolo.​