Stephanie Vanas traveled 8,000 miles from Vienna, Austria, to play softball here at GHC.
She said, "It has always been my dream to play softball in America."
Vanas started playing softball at age 15. She played for the Vienna Wanderers and the Junior National team back in Austria.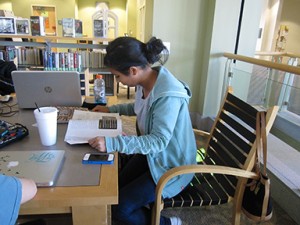 "It's nice playing with girls my own age," Vanas said. "Since softball isn't very popular in Austria, there are no different age levels, so it was pretty mixed up age-wise."
The Austrian Softball League only has seven teams, and the majority of schools there do not offer sports.
Of the many differences between Vienna and Cartersville, transportation is the one Vanas has noticed most. Vanas said she is "used to living in the city where you can walk just about everywhere" so she has never needed to learn how to drive.
Vanas studied at the University of Vienna for one year before she decided she wanted to travel.
Her current major is physics, and she says "it is a little harder to learn in English," but she is toughing it out.
Vanas speaks German, English, French and Filipino. German is her first language, but she speaks all four languages fluently.
Vanas is planning to visit home over Christmas break. She said, "I can't wait to see my family and friends again since it's not easy to communicate with them due to the six-hour time difference."
She said, "I also can't wait just to be in Vienna again. It's such a beautiful city, and it's even prettier during Christmas time!"