We live in a time when big businesses rule over small, local shops that often replenish the community.
Local bookstores are those types of stores that help the economy of small towns in particular as well as offer a whole different, more personal experience than a larger bookstore would.
"With a used bookstore, it's great because all of the books here come from people bringing in their books to trade," said Alan Crocker, owner of Paradise Lost Books on Broad Street in Rome.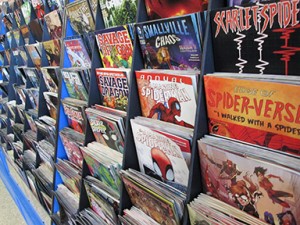 Crocker, who opened his store in 2008 when the economy was bad, says that bookstores and thrift stores in general do better in times of economic decline. He believes buying thrift actually feeds into the economy as well.
Kenneth Studdard, owner of Dogwood Books, another store located on Broad in Rome, also believes in the prospects of buying locally instead of paying a large corporation.
"I don't think they are good for the community," he said.
Self-starting bookstores also tend to carry more local titles.
Both Paradise Lost and Dogwood Books carry books by authors from Georgia or around Rome.
Studdard said, "We do a lot of focus on local authors and local interests, things that corporations would never carry."
When people buy from local bookstores, a town's economy is improved, and the community as a whole is strengthened.
Jason LeCroy, co-owner of What If: Comics and Collectables, also said that local store owners can get to know their customers better and cater to their interests.
Buying from a bookstore nearby is a great way to stay involved in the community, but it is also an excellent way to find some interesting books and have a great time while doing it.