Students learn cyber security skills
Georgia Highlands' Chief Information Security Officer Richard Davis and Information Security Specialist Mike Peterson have teamed up with Rome High School's Air Force Junior Reserve Officer Training Corps program (AFJROTC) to participate in the Air Force Association's CyberPatriot program to help encourage students to learn more about science, technology, engineering and math (STEM).
According to USCyberPatriot.org, CyberPatriot is the National Youth Cyber Education Program. During competitions teams of students are given "a set of virtual images that represent operating systems." The team must locate vulnerabilities and keep the system operational during a six-hour period as if a system was in the process of being hacked.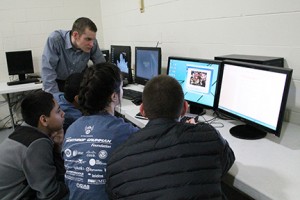 GHC was asked to participate in the program by Lt. Col. Michael Washington, who is in charge of the JROTC program at Rome High School.
"He asked if this is something I would like to be interested in, and I thought that it was a pretty cool idea. Let's teach kids and get them interested in being geeky and security minded," said Davis.
Davis and Peterson worked with the team two times a week on various training programs that were provided by the CyberPatriot program.
"We can all work together very well and we all know what our strengths and what are weaknesses are, like Kane and I are both really good at viruses and networking," said Lauren Gaston, a sophomore at Rome High School. Senior Kane Bearden was another team member.
The team placed first in the Regional competition, but did not qualify for nationals.
"I'm proud of the kids and we could not have done this without the mentors from Georgia Highlands," said Washington, United States senior aero space science instructor at Rome High School.
Davis and Peterson worked to help prepare the team on their own time, free of charge, so they could get Georgia Highlands' name out and let high school students know that GHC offers programs related to information security as well as to help reinforce their own knowledge.
Davis and Peterson are still working with the team from Rome High to help them learn and better prepare themselves for competition next year.