The students and advisers of GHC's chapter of Brother 2 Brother accepted the Outstanding Chapter of the Year Award at the Student African American Brotherhood (SAAB) conference in Detroit, Mich., March 28.
When picking a winner from the 300 chapters throughout the country, SAAB takes into account the activity of the group, retention rate, graduation rate and college performance of the members.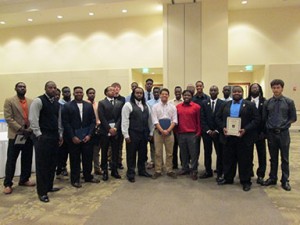 Jon Hershey, director of B2B, said, "I think the fact the students were able to stay unified and focused and have a strong academic record all played a part."
Hershey said the Highlands chapter of B2B is unusual as it is split across five campuses.