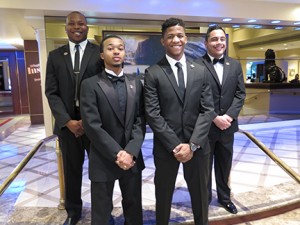 Two GHC students attended the 25th anniversary gala of the national organization Student African American Brotherhood, or SAAB, held in Los Angeles Oct. 17.
All chapters of the organization were invited to attend including the GHC Brother 2 Brother chapter.
Floyd campus students, Karicka Culberson and Jared "Marco" Johnson were chosen to make the trip by Jon Hershey, dean of humanities, along with other B2B advisers.
Culberson and Johnson are leaders in B2B and both have high GPAs. Culberson is the Floyd campus B2B president, and Johnson is the Marietta B2B historian.
The two GHC students were given the opportunity to meet with SAAB members and leaders from around the country. They also attended the SAAB Western Regional Summit, a workshop for chapters of SAAB/B2B in California.
Hershey said, "In addition to the anniversary event, I see it as an opportunity to give Karicka and Marco a chance to travel.  Neither of them have been to California before."
Johnson and Culberson agreed that their trip to Los Angeles was one they will never forget.
"Being out in a new city really gives you a different perspective about how the world really is. I went to L.A. with the notion that people there would be rude, but they're not. Everything is just more fast-paced," Culberson said.
With regards to the workshop they attended, Culberson said, "We learned how to manage our money and become better leaders."
Johnson said, "I feel people should invest their money into things that potentially make them more money, and also into educational experiences."
B2B is part of a larger initiative at Georgia Highlands called GHAME, or Georgia Highlands African American and Minority Male Excellence. Hershey said, "GHAME exists to help minority men succeed at Highlands.  One way to accomplish that is to open the students up to new experiences, and traveling does that."