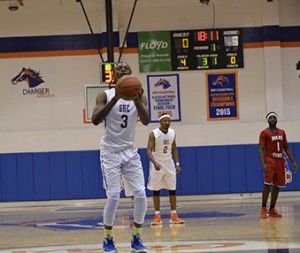 Number 10 NJCAA nationally ranked GHC Chargers defeated the Raiders of Roane State 82-60 to give the Chargers a win in their home opener on Nov. 3.
The beginning of the first half was tight, with both teams playing strong defense. Neither team scored double digits until after four minutes into the game, emphasizing the difficulty for either team to pull away easily.
Georgia Highland's 6'8" forward Kyvon Davenport made an electrifying and-one play to get the Highlands' fans and players going.
The Chargers began to add up points on the free throw line, extending the lead to 24-15 with eight minutes left in the half. Charger guard Paris Ballinger, put up a 3-pointer late in the half, firing up his teammates to pull away from the Raiders.
Tylik Evans, another guard for the team, added another three late in the half after the Chargers took advantage of a steal.
With the final seconds winding down in the half, Chargers' guard Doniel Dean put on the last points, and the half ended with the Chargers on top 46-29.
The Chargers came out of halftime with better rebounding, giving its offense abundant opportunities to make plays.
A dunk was thrown down by Chargers' forward Fritz Lucien, keeping the momentum alive.
If the dunk wasn't enough for Chargers' fans to get out of their seats, the three steals by Evans following the dunk surely were.
The Chargers led 74-52 late in the half.
Roane's Tayte Kitts tried to get his team going with an and-one shot but missed the free throw.
The Chargers finally put the Raiders away with an 82-60 win, giving the Chargers a record of 2-1 for the season.
"It was a team effort tonight, with 10 players scoring for the Chargers. We have a long way to go, and we just have to keep getting better each week," said Chargers Head Coach Phil Gaffney.
Leading scorer Davenport said, "This win will help us out a lot as far as team development and running plays better."
Ballinger, who is a returning player for the Chargers, said, "We are starting to click as a team and get everybody rolling. We had multiple guys with double digit points. When you have that much firepower, it can be hard to stop."
The leading scorers all had double digits. Davenport had 23, Ballinger had 16 and Tylik Evans had 13 points.