Highlands joins the USG's STEM Initiative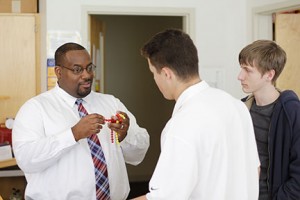 Georgia Highlands College has joined the ranks of 14 other University System of Georgia institutions participating in a state funded initiative to better preparing K-12 students for STEM degree programs.
According to the University System of Georgia website, in 2007 the state identified a pressing need for student preparedness, and subsequently graduation, in the areas of science, technology, engineering and mathematics or "STEM" to ensure a successful future workforce for the state.
To address the issue, the state partnered with the University System of Georgia's Office of Educational Access & Success, or "OEAS," to launch the Initiative.
According to Greg Ford, the Dean of natural sciences and physical education and the Director of the STEM Educational Resource Center, GHC wants to set up a STEM Educational Resource Center in the Science and Physical Education Divisions. The objective is to offer educational resources for Georgia Highlands STEM students and K-12 students as well.
Ford said, "Our mission, in line with the mission of the college, is to provide access to excellent educational opportunities for a diverse population. Our recruitment efforts will focus on students with geographical, racial, gender and learning disabled disparities in pursuing STEM careers. We will increase outreach activities and summer enrichment opportunities in NW Georgia counties."
The goal is to increase interest in STEM careers and the number of students that enter the college's STEM Program Ready through math placement.
"Our retention and completion will include instituting activities and resources to address STEM advising to keep students on track in their program. Our hope is that this transformative work will have a positive impact on student success," Ford said.
According to Ford, the program is currently in its Plan Development Phase. Ford said, "The goal is to collect baseline data on the college's performance in areas related to recruitment, retention and completion."
Once sufficient data is collected, it will be used to design specific goals, strategies and activities related to improving STEM education. "Once the comprehensive plan is approved, we will begin the Implementation Phase that will begin July 1, 2016, and end Jun 30, 2019," Ford said.
GHC will be working Bartow County School System, Northwest Georgia Learning Resource System (GLRS), local STEM businesses and GHC-SGA.