GHC Chargers' basketball players receive GCAA conference awards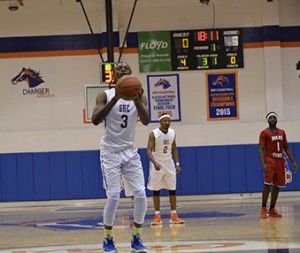 Members of the Georgia Highlands College men's basketball team have recently received conference awards from the GCAA.
GHC's Kyvon Davenport received the Conference Player of the Year. Davenport received this award because averages 17.1 points per game, 10.5 rebounds per game and 2.9 blocks per game. Davenport has also had 20 double-doubles throughout the course of the season.
Ty'lik Evans has received Defensive Player of the Year, 2nd Team All-Conference. Evans received his award because he averages 11.7 points per game and six assists per game. He also averages seven steals per game, which is the second highest in the country.
The Chargers' Ty Cockfield has received 1st Team All-Conference. Cockfield has received this award because he averages 16.6 points per game, 4.5 rebounds per game and 3.3 assists per game.