Parking woes plague Paulding and Cartersville campuses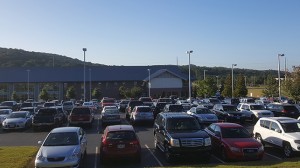 The Cartersville and Paulding campuses are both experiencing changes and dysfunction with student parking this semester.
Cartersville continues to face challenges caused by construction, which include the closing of a main parking lot and connecting sidewalk.
Closure of both the lot and walkway has created a detour that leaves some students struggling to arrive in class on time.
Full-time student Emmie Sutter said, "I'm late to class sometimes because I spend so much time looking for a parking spot."
Part-time student Mia Hall who does not drive herself to school said, "I feel sorry for the people who get here late because they have to find a parking space, and it takes a while to walk to class."
GHC's Paulding campus is dealing with minor parking difficulties as well.
Joy Hambrick, Paulding site director said, "I believe it is less about us having limited spaces and more so that available parking areas haven't been publicized like they should."
Hambrick said that she and her staff are working on making available parking more noticeable. She said, "Students can park in the available lot, but also in the Regions Bank lot directly across the street and the lot connected to the Winn Building."
Hambrick also wants students to know that there is a public parking lot one block from the campus that students can access without having to cross the street.
Hambrick and her staff have been working with Paulding DOT to improve the lighting, sidewalks and crosswalks that connect the campus with the public parking lot.
Hambrick said she wishes "to make access safer and easier for students, and plans are in place to do so in the near future."