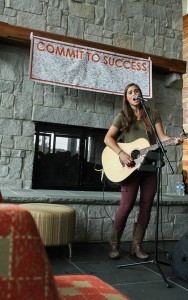 Angie Keilhauer, a former contestant on "The Voice" performed for students on the Cartersville campus Oct. 9.
Keilhauer played various songs from different genres. She sang four original songs: "Made to Live by the Water," "Let it Ride," "Tequila" and "Born to Drive."
The remainder of her set consisted of songs by artists ranging from Nicki Minaj to Billy Joel. Keilhauer interacted with the students in the audience asking them to request a song they would like to hear.
Back in 2016, Keilhauer won the Independent Music Award for her album "Wild." Rolling Stone magazine also listed her on their list of "Artists You Need to Know." According to Keilhauer, her journey consisted of persistent emailing over the course of six months for a cruise ship position, uploading several videos before finally going viral and trying out for "The Voice" four times before getting to become a contestant.
"People always ask me, you know, how did you do this or how did you get to do this specific thing to help your career and the reality is, that specific thing didn't necessarily help my career as much as it did the number of times that I tried and then it worked," said Keilhauer.
She enjoyed performing in front of the students on campus. She said, "It was great. One of my favorite things about playing solo shows is I can honestly play whatever I want. I don't use a set list and I listen to what people like."
Keilhauer performed on all GHC campuses and a review of her performances can be found on page 13.
Keilhauer is currently touring, and her band will be performing at Music Midtown next year. For more information about Keilhauer and possible tour dates, visit her website angiekeilhauer.com.