Cheerleaders are planning to be more involved in the community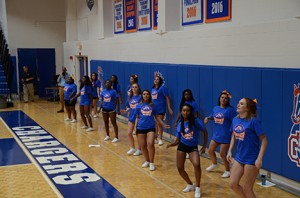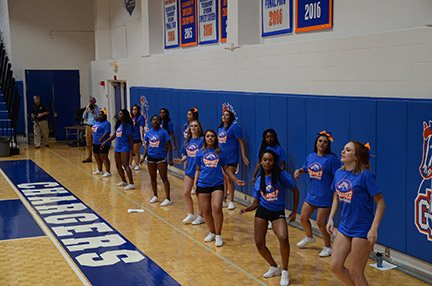 As basketball season begins, the GHC cheerleading team is ramping up its game.
This year's squad is made up of Breanna Brown, Mackenzie Cochran, Chakielle Dennis, Rashaeyla Douglas, Trinity Fielder, Kennesha Frazier, Tennesha Frazier, Alexis Lee, Ashtyn LoCurto, Nina Manuel, Morgan Richerson and T'Keyah Spencer, as well as returning cheerleaders Kaleigh Garret, Shaylan Johnson and Aaliaya Jones.
They are coached by Susan Claxton, Donna Mantooth and Erin Kingston, along with volunteer coach Caitlin Rogers. Claxton said that the squad's goals for this year include more community engagement.
She said, "We want to concentrate on team-building this year by doing activities that do not just involve fundraising and cheering. We hope to have regular team-building activities throughout the season." Cochran said that their season is going well. "We're working on getting even more cheers down and bonding as a team. We are excited to see if we make it to the playoffs," she said.
Claxton said the most rewarding part of her job as a cheer coach is getting to know the team and working with them. She said, "I love watching them grow and become a team, not just individuals thrown together with a common interest. I love watching our basketball team and how they respond to the cheerleaders."
Last year was Claxton's first year coaching the cheerleaders. She said, "I love seeing faculty, staff and students at the game enjoying each other as peers to root on the teams.