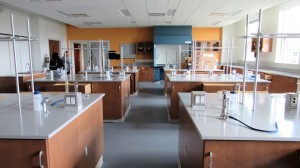 The grand opening for the new academic building at the Cartersville campus will be held on Tuesday, Oct. 16, from 4-6 p.m.
Anyone who would like to attend can RSVP by visiting ribboncutting.highlands.edu. This opening will include a brief ceremony on the lawn and an official ribbon-cutting.
After the ribbon-cutting, the building will be open for tours.
Nicknamed the "STEAM building," this 52,000-square foot, 22.5-million dollar building will include the following: science, technology, engineering, art and math classes.
The building contains new science labs, an art studio, computer labs and lecture rooms. Some GHC employees will be moving offices into the new building.
The president of Georgia Highlands, Donald Green, said, "The new building is incredible." Decorated with GHC's colors, orange and blue, this new building has modern design elements such as floor to ceiling windows and glass walls. It will even include "two murals dedicated to science, math and technology," Green said.
Before the new building, science students have had a hard time completing their pathway due to lack of science labs (including fume hoods and safety features).
Excited about the enhancements for the science department, Sarah Tesar, the interim dean of natural science and physical education, said, "With the five new labs and new science equipment, we will now be able to expand biology and chemistry course offerings."
Just as with science, the art department will be improving as well.
Russell Cook, assistant professor of art, said he is looking forward to teaching in the "double-sized art lab with a big empty space and nice lighting."
Only some classes will be moved over this semester, but a full slate of classes is planned for spring 2019.
Leslie Johnson, Cartersville campus dean, said, "By moving over a sample of classes this semester, it enables us to have a trial run in the new building in order to work out technology or other facility issues."
Green and Johnson thank state legislators, members of the University System of Georgia, alumni, local community leaders and educators across the state for their assistance with the new building.