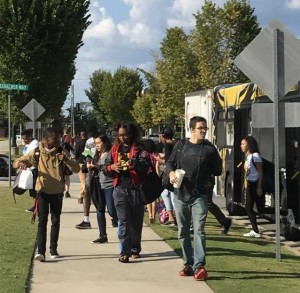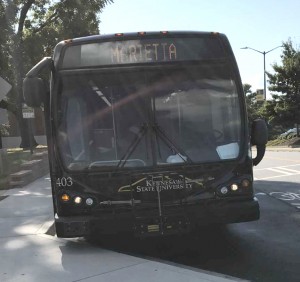 KSU and GHC Marietta are aware of how crowded the parking spots are getting and are trying to find the best solutions to the problem.
With both GHC and KSU gaining students rapidly each semester, parking spaces are becoming limited.
One of the solutions for more student parking is for students to park at White Water and catch the B.O.B bus to campus, with no extra charge to the students.
Lessie Sheldon, a student at KSU said, "Designating parking spots closer to where people need them would be helpful."
The buses sometimes get stuck in traffic and students end up late to class.
However, some teachers do not find being late due to the bus as an excuse.
Another KSU student, Lebeth Hunter said, "The bus was stuck in traffic, and my teacher wouldn't let me come to class because I was late."
Marietta campus GHC student, Purity Kariuki said, "It's ok, apart from the time they made me park at White Water."
Ken Reaves, the GHC dean on the Marietta campus, said that the Board of Regents has given the college money to add additional parking spaces on campus and that by next fall White Water parking will not be needed anymore.
Also there will be more spaces available for GHC students and KSU students during the spring as the number of students decreases in the spring semester.
Reaves said, "Parking issues are typical for most big colleges, and students at Georgia State also have to park far and take a bus to get to class."