Cartersville construction to finish in August
The new student life building on the Cartersville campus is expected to be completed August 2012, according to Carolyn Hamrick, campus dean.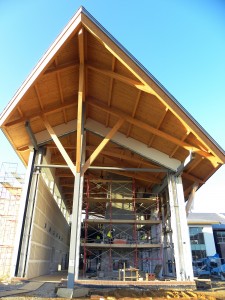 The building will be the start of a new era for Georgia Highlands' Cartersville campus with features such as food services, a new bookstore, a game room, a student organization resource center, student meeting spaces and a recreation center.
Two full basketball courts, an elevated walking track, a cardio room, a weight room and a group fitness room will make up the recreation center. This will give students a place to work out on campus without the added expense of paying for a gym membership.
Meghan Youngblood, Cartersville student life coordinator said, "The Office of Student Life will be moving to the new building. I'm looking forward to having more space to do activities with." Brandon Poché, of the Gaming Club, said, "Our game room is so small. Rumor has it that the new gaming room will resemble the Rome campus's gaming room. If that is the case, it will entail more room and more outlets to allow easier gaming, which we all are looking forward to."
Youngblood said, "This is a fantastic move for the Cartersville Campus in providing more services for our students. We're trying to build a campus atmosphere that encourages our students to come to campus and participate in all we have to offer inside and outside of the classroom, and the new student center is designed to provide that fun 'college' atmosphere on a less traditional campus."