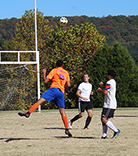 GHC men's soccer team beat the University of West Georgia's soccer team 6-2 in a home game Nov. 10.
In perfect weather, the teams scrapped it out. The beginning of the game was intense. At the half GHC was down to UWG, 2-1. By the end of the game, however, the Chargers came back and won 6-2.
GHC's Amaduo Touray, from the Marietta campus, shot but missed and hit the goal post. The goalie came out of goal to grab the ball, but Alan Vazquez, Marietta, kicked it in.
Julio Medina, Floyd, scored the most goals with four. The other two goals scored by the Chargers were from Vazquez.
"We kept pushing until the last whistle, and we came back," said Edwin Chavez, Floyd, of the win.
Now that GHC's soccer team has played at least three games, starting next year's fall season the team will be full members of the National Intramural-Recreational Sports Association.
Coach John Spranza, who is also the student life director, said, "I was very proud with how we came back in the second half and took control."
The game was at the Floyd campus intramural field with 60 fans in attendance.
The men's team has two more games, one at home against Dalton State College at 3 p.m. on Nov. 17 and one versus Georgia Gwinnett College on Nov. 18.
The GHC women's team was supposed to play Kennesaw State Nov. 10., but KSU forfeited. When a team forfeits, the opposing team automatically wins 1-0.