GHC hosts the annual Turkey Day Walk/Run at Floyd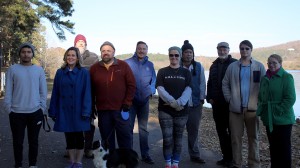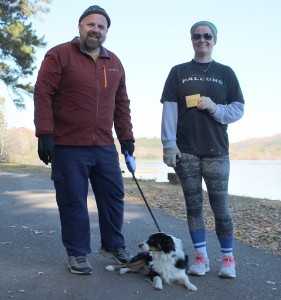 The winners of the annual Turkey Day Walk/Run were Jeff Davis, vice president of finance and administration and Lindsay Little, the senior administrative assistant of the vice president of student affairs at GHC.
Davis' estimated time was 34 minutes and 30 seconds, and his actual time was 32 minutes and 42 seconds with a 1 minute and 48 second difference. Little's estimated time was 28 minutes and 31 seconds while her actual time was 31 minutes and 5 seconds with a 3 minute and 38 second difference. Davis was the male winner, and Little was the female winner
GHC hosted its annual Turkey Day Walk/Run on Nov. 28. It is an event that allows students, faculty and staff to get together and participate in a friendly challenge of walking or running around the Paris Lake at the Floyd campus. Participants compare their estimated times to their actual ones.
The event was organized by David Mathis, the manager of physical education programs and assistant director of athletics. While the Turkey Walk/Run has been at GHC for years, this is the 26th time that Mathis has hosted it.
Regarding the event, Mathis said, "It's a great way for students, faculty and staff to get together to enjoy our beautiful campus."
Registration took place at 1:45 p.m., and Walk/Run began at 2 p.m. It is a 1.85 mile walk around the Paris Lake.
Donald Green, the president of GHC, also participated in event. He said, "I am proud of all the participants of the Turkey Day Run/Walk. It does not surprise me that we had so many participants. It shows that GHC is a fitness focused culture and it is a great way to start a fit and healthy holiday season."
Green mentioned that GHC recently won third place in the Fall Fitness Challenge against other schools and universities in the University System of Georgia.
To see more of the Turkey Day Walk/Run at the Paris Lake on the Floyd campus, please see the slideshow down below.
[slideshow_deploy id='6162′]