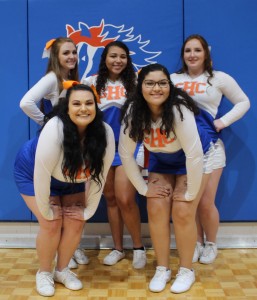 Passion, determination, and school spirit are what it takes to be a cheerleader. The GHC cheerleaders show up to the Corral every single home game for the men's and women's basketball teams.
When Coach Erin Kingston took over for the cheerleaders, she knew it was a dream come true.
Kingston said, "I have always loved cheerleading. As much as I wanted to do it growing up, I never had the chance to be one. But when the opening for the new GHC cheerleading coach arose, I knew I wanted to do it."
Seven cheerleaders have motivated the basketball players and crowd throughout the season, having to memorize numerous cheers. It is a lot of hard work, and it is takes a lot of time to master all the steps.
When asked what made her want to be a GHC cheerleader, freshman Kristin Hatfield said, "I always had wanted to be a cheerleader and show spirit for the school."The majority of students at GHC went to high school and attended either a basketball or football game at least once or every single game. Aside from the athletes playing sports, a group of cheerleaders would always be on the sidelines, braving the elements of winter weather in football or the stuffiness of a packed gym cheering their team on and showing off their school spirit. What is most important to the cheerleaders is the camaraderie between them and the growing friendships they develop. Freshman cheerleader Hannah Maxwell said, "My favorite part about being a GHC cheerleader is the team effort. We are all one team, and we work together. It is good for us to be there for moral support for both teams."
Catch the cheerleaders in action at any of the Georgia Highlands Chargers and Lady Chargers home games.