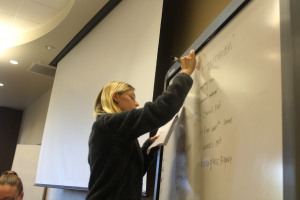 The Peer Body Project is an evidence-based study to promote body positivity and prevent the onset of eating disorders. The true goal is to change the way people view their bodies. This also brings a shift in how people today view society. These events are led by students trained to conduct the study.
The peer leadership creates accountability among the groups, and this accountability is necessary to produce the best results. Participants are asked to complete several activities at home in order to keep the project in mind. They are also encouraged to make an extra effort to fight the appearance ideal. Projects such as "Letter to Your Younger Self" push participants to delve into themselves and create a new internal conversation.
It is conducted by peers with the goal of making the project feel safer and more comfortable for the attendees. Students of all body types are welcome to participate and find comfort in the group. In the leader training it was found that no matter what people look like, the concern is the same. "We all view ourselves in the same negative way," said body positivity leader Jordan Farist. Anyone can benefit from the experience of the workshop.
The Peer Body Project is proven to be worth the time through many studies. According to their website at www.peerbodyproject.com, "The Body Project, developed by Dr. Eric Stice, has emerged as the most effective program of its kind, with results which have been replicated by at least eight independent labs." All students are encouraged to participate in the study and create a new view on body positivity. GHC counselers Tara Holdampf and Angie Wheelus are the facilitators.