Former "The Voice" singer performs at GHC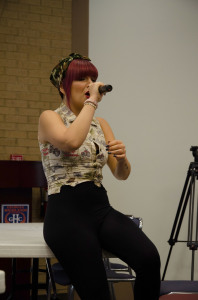 "My job is to kick down the door of conversation. Sharing my story helps others share theirs as well… and then a whole lot of healing happens, and that's a beautiful thing," said Michaela Paige.
Paige is a former contestant on "The Voice" and current singer-songwriter based out of Los Angeles. She was recently at multiple GHC campuses spreading her message of "being you" through music and passionate, down-to-earth speeches between her songs.
For Paige, breaking the barrier others find themselves behind opens them to becoming the person they want to be. It's easy to feel like an outcast in our brisk-paced, social media driven society, but Paige wants students to know they are not alone.
On the Douglasville campus, Tuesday, October 8, Paige performed both covers and original songs all while involving students. She moved throughout the audience, sang and danced with students and made everyone a part of the performance. At certain points, she talked directly to students, sitting with them and smiling as they conversed.
Douglasville nursing student Brooke Adams said her message is something "everyone need[s] to hear." Paige said she found it scary that there are so many people out there who don't feel like they belong, adding that she's here for those people. Beyond self-affirmation and belonging, though, Paige went on to speak about the people others keep in their lives, the promises they make to themselves and "living through our phone screens instead of in the moment." It wasn't just about gathering for good food and good music. It was an opportunity to hear a "touching message," as Douglasville general studies student Dale Williams said.
Paige says that now is the "time to find out who you are." As a college student herself, double majoring in psychology and religion, she says it's easy to feel like you're "the only one who goes through things." To that end, Paige's tour is called "BE YOU." She went on to perform at the Floyd and Paulding campuses.