Online learning requires a new approach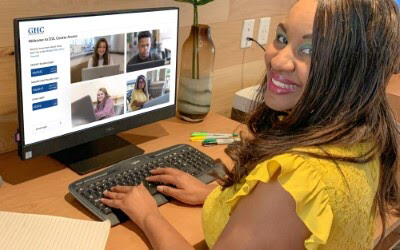 While physical locations are closed during this time of social distancing, GHC's library staff members are still available to offer remote assistance. 
"We are staffing our phones and chat reference services remotely," said Julius Fleschner, who has served as GHC's Dean of Libraries and College Testing since 2018.
According to Fleschner, librarians are ready to answer inquiries from 8 a.m. through 7 p.m. Monday through Thursday, and 8 a.m. to 2 p.m. on Fridays.
"That ensures that students can get help on research, technology or citations," said Fleschner. "We all felt this was vital to being there to serve others."
The GHC libraries are currently not loaning physical items. Additionally, Fleschner said the libraries are asking everyone to hold on to any library items they may have checked out, rather than using on-campus drop-boxes to return items.
Fleschner encourages library patrons to delve into the school's extensive digital collections which include articles, eBooks, audiobooks, videos and much more.
"I highly recommend every student download the Libby and Kanopy apps," Fleschner said. 
Both apps are available in Apple and Android devices' app stores. Fleschner said they "will allow you to read popular eBooks and watch some great movies with your GHC credentials." 
Students, faculty, staff and other members of the community can also make a request for the library to purchase materials by filling out an online form here.
The libraries have worked to develop several instructional video series with varying topics such as how to navigate D2L, using Zoom for classes and accessing Microsoft Office 365 which includes Word, Excel, Powerpoint and the Outlook email programs.