New foreign language teacher joins GHC faculty
By John-Mark Millican
[email protected]
Staff Writer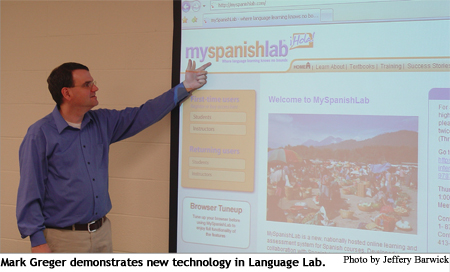 When you first meet instructor Mark Greger, you wouldn't know that he is an instructor of language. However, when he speaks in the Spanish language, his fluency is obvious.
Something that some might find interesting is that Greger is not of Latino heritage. Greger remembers being interested in the language of Spanish as early as middle school. However, his true inspiration was a teacher in high school.
From high school on, Greger advanced his knowledge of Spanish. He attained a master's degree at Mississippi State University. His teaching career prior to coming to GHC included part time college teaching as well as language classes for high schools.
One of those high school classes was near the coast of Mississippi. Greger was teaching at a private Catholic high school when our nation first heard of Hurricane Katrina. While Greger was evacuated in time, the school was filled with water.
Upon accepting the position here at Georgia Highlands, his reception was not unlike what he had seen in Mississippi.
When he arrived at GHC to teach Spanish last semester, the language lab was completely covered in water. Due to flooding during roof repairs, the language lab was not usable for his entire first semester.
While his start here may have been slightly challenged, Greger has adapted well. For that reason, Greger has introduced a new curriculum that he hopes will make Spanish even more inviting to those who need a foreign language. "I hope to be able to increase people's awareness of the need to learn the Spanish language," said Greger.
This semester has been refreshing for Greger, since he has access to technology that was not available last semester due to the flooding.
Greger uses a style of teaching that incorporates not only the projector functions of the classroom but also programs on the lab computers. He believes these things help him more effectively teach Spanish.
While the Spanish program only has around 100 students at this time, Greger has high hopes to see the program expand. He hopes that people will become more aware of the need for learning Spanish the longer the program endures.
While Greger does not have many long term plans at the moment, one thing he would like to achieve is his Ph.D.