Building renamed in honor of founding president

By Brian S. Armstrong
Staff Writer
The Administration Building on the main campus of Floyd College, which also includes the student center area and F-Wing, is being renamed in honor of the founding president, Dr. David McCorkle.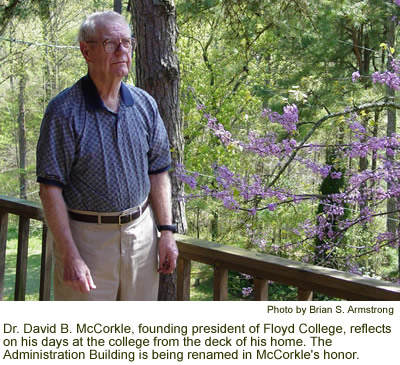 The building's new name will be the "David B. McCorkle Building." The Board of Regents approved the renaming of the building on March 12.

Under the leadership of McCorkle, Georgia Highlands College pioneered cooperative programs, opened satellite campuses and provided an opportunity for people in the region to "get their feet wet," as McCorkle himself put it.

"We are so pleased to be able to bestow this honor on Dr. McCorkle for the invaluable contributions he made to establish this outstanding community resource," said current FC president, Dr. Randy Pierce.

McCorkle said having the building named after him is "particularly great because I'm alive." He said, "When I was down there the policy was the person had to be dead before you could name a building or anything after them, but they've changed that. It's very nice."

It is still rare for a building to be named after someone living. According to a press release by Sandy Briscar, director of public information at Georgia Highlands College, "The Board of Regents limits the naming of buildings for living persons to those who are 'beloved ex-presidents' or major contributors to an institution."

Sitting, overlooking the back deck at his home, admiring the many birds and prized plants, McCorkle spoke of when he first came to Rome.

"When I came here in '70, that was a soybean field," he said, speaking of the land that currently makes up the central campus of FC. "It's quite an experience starting from scratch. The first quarter we had classes in the old Methodist annex downtown and the old Harbin Clinic, which no longer exists."

"I look back and it's hard to believe we had 845 students the first year," he continued. "That was quite an accomplishment because we only expected about 600."

After explaining the difference between a male and female woodpecker, which incidentally is that the male's head feathers are completely red and the female only has a patch of red on the back of her neck, McCorkle spoke about the college and the path it has taken since his retirement in 1991.

"Dr. Pierce has the same philosophy that I have," McCorkle said. "That philosophy is that we are here to serve. We started out calling ourselves an 'opportunity school' because there were a lot of people that could not afford, for various reasons, to go other places, or to attend a private school.

"Part of this goes back to the time when I was a graduate of Georgia Southwestern when it was a two-year school. I never could have gone to college had not that school been down there. I have appreciated that all my life."

McCorkle said that he is really happy with the progress that Georgia Highlands College has made and the new opportunities that it continues to offer to the residents and students of Floyd County, such as hosting several selected four-year programs conducted by nearby universities.

"The need for a four-year university just doesn't exist (in Rome), but the need for certain programs does exist, so what happens is that now they can bring these programs that are needed and take them out if they're not needed. It makes sense economically to me," he said.

Talking about Paris Lake (the lake behind the central campus), McCorkle said, "The funniest experience I ever had down there was many years ago. We had some cold weather and the lake froze. I was down there one morning and the ducks and geese came in and they would hit that ice and skid 300 feet."

The tour of the landscaping and the beautiful red bud tree just off of his side-deck provided a break in conversation, but then McCorkle said, "I have a lot of good memories about the college."



"Notwithstanding any language to the contrary, nothing contained herein constitutes nor is inteded to constitute an offer, inducement, promise, or contract of any kind. The data contained herein is for informational purposes only and is not represented to be wholly accurate.