Construction of new Bartow Center described as 'going extremely well'

By Tabby Garrett
[email protected]
Staff writer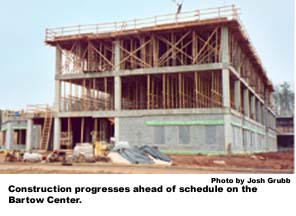 The building of the long-anticipated, full-service Bartow Center of Georgia Highlands College is going strong.
"Progress on this project is going extremely well," said Doug Webb, physical plant manager of Georgia Highlands College. Webb applauds the aggressiveness of the contractor in working to complete the construction of the campus.
He said, "The completion date is Feb. 25, 2005. That date, right now, is 30 days ahead of the scheduled finish date and unless we were to have some very difficult weather, I think that (completing on schedule) is a very good possibility."
Georgia Highlands College's website states that the new campus will house "21 classrooms, four lecture halls, eight science labs, conference rooms, a student center, a bookstore and more," to accommodate the increasing enrollment of the Georgia Highlands College campuses.
The Bartow Center is also anticipated to house several new options for students, such as the possibility to achieve a larger variety of four-year degrees by way of continuing partnerships with four-year colleges and universities like Southern Polytechnic State University and the State University of West Georgia.
Aviation Contractors Inc. began construction on the new multi-million dollar campus in July 2002.
The new campus is located on 50 plus acres off Georgia Hwy. 20 in Cartersville, across from the Wal-Mart shopping center.
The current Cartersville campus is located on Gilmer Street and serves approximately 700 students.
Students can expect to start classes at the new Bartow Campus of Georgia Highlands College by Fall 2005.