Move to a smoke-free campus goes smoothly

By Sam Chapman
[email protected]
Editor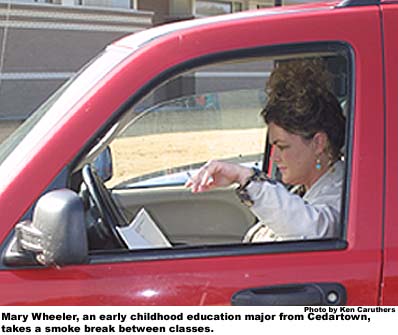 Implementation of the new tobacco-free campus policy has started off smoothly.
According to Jim Mehaffey, security officer, there have been no complaints and no warnings have been given out to students, faculty or staff.
Dr. Randy Pierce, Georgia Highlands College president, put in place the new policy January 1, after it was passed by the college's Presidential Cabinet and endorsed by the Student Engagement Council and the College Environmental Health and Safety Committee.
Whereas previously tobacco use was prohibited inside the buildings but allowed in designated smoking areas outside, the grounds are now tobacco-free as well.
According to Pierce, "Smoking by individuals entering college property will be confined to their personal vehicles."
Pierce said that security officers will issue only warnings to those who smoke on campus unless it becomes a habitual problem.
Recently enrolled student Josh Chambers said, "The negative effects of smoking are obvious, but the potential negative side effects of infringing on someone's right to smoke where they choose pose a much greater threat to society.
The new policy was not intended to punish anyone or infringe on anyone's rights, but to work for a cleaner, healthier community," said Pierce.
Pierce does not expect the new policy to have an impact on future applicants to Georgia Highlands College.
Students have expressed a variety of opinions on the new policy.
Tyler Collum, an early childhood education major from Rome feels the policy may be " a little extreme," but agrees that, "Something should have been done for the general well-being of the student body."
Chad Martin, a history major from Rome, thinks it's a person's right to smoke, and J.D. Greene, a math major from Cartersville thinks there should be a designated smoking areas outside the building.
Personally, I'm happy with the new policy, but I had no problem with the old one," says Nicole Vaughn, an early childhood education major from Cartersville.
Julia Ledbetter, an early childhood education major from Rome, said, "I think it's a good thing because I don't smoke. I do think there should be a designated smoking area, though."
I don't mind because it is cold right now, but later in the year it would be nice to sit in the shade instead of roasting in my car," says Evan Milliman, an art major from Rome.
The policy also applies to Georgia Highlands College employees.
I think it's a good thing," says Barbara Rogers, assistant director of auxiliary services.
I thought it was ugly and stinky before and I'm glad I do not have to hold my breath when walking out the doors," says Dr. Jon Hershey, professor of English.
The new policy is an addition to the previous 1994 policy that banned tobacco product use inside campus buildings. Notice of the upcoming change was emailed to students at the end of fall semester, and information about the new policy has been scrolling on the Georgia Highlands College home page.
Pierce indicated that signs stating the new policy will likely be placed at the FC campuses in the future.