Recycling at FC not what it used to be
By Eric Rose
Staff Writer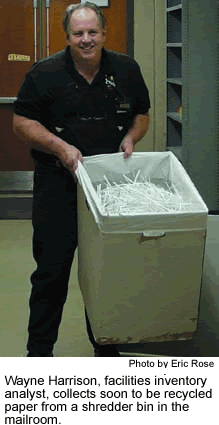 It seems that the Georgia Highlands College recycling program is not being executed with the same enthusiasm that it had at its start.

In 1992 FC's recycling project won second place in the Georgia Recyclers of the Year Contest and also received a certificate of achievement from a national recycling organization.

Georgia Highlands College students and staff members started the current recycling program in 1991. Among them were Lynn Mills (staff), Marta Turner (student) and Harold Pressley (then director of Plant Operations). Turner went on to head the Rome Floyd Recycling Center.

Facilities inventory analyst Wayne Harrison said of the program, "They used to do a good recycling job here, but now it's dwindled." Harrison works at Plant Operations, which undertook the program.

The University System of Georgia maintains policy pertaining to recycling for all schools to follow. "We have been doing this (recycling) from a state standpoint for at least five years," said FC president, Dr. Randy Pierce. "As good stewards we need a good recycling program and policy toward it," he said.

According to Pierce, FC is following state procedure. "I walk in the halls and see the recycle bins and the cans, and I see that we are recycling," he said.

FC currently recycles cardboard, white background paper and aluminum cans. The custodians empty the bins and collect their contents. The grounds people then take the material to Plant Operations, where it is picked up by the Rome Floyd Recycling Center every two weeks.

The bins with the holes in the top are for aluminum cans. The blue bins in the classrooms are for paper. Cardboard is gathered and compressed into bales by a baling machine on the bookstore's loading dock.

Paper recycling has been reduced because FC has stopped recycling computer paper. When asked about who brings the paper to Plant Operations for recycling, Harrison said, "Somebody does. I haven't seen them come down here in a while."

The Beautiful Bartow Program takes care of recycling at the Cartersville site. "They come and pick up our plastic and recycled paper," said Cartersville site director, Carolyn Parks. "Beyond that we really don't have anything to do with it," she said. She also said that Bartow County is "very serious about recycling."

Plastics are not currently recycled by Georgia Highlands College. "We have not had enough (plastic) to accumulate anyplace," said Doug Webb, director of Plant Operations. "At one point in time we tried to do that," he said. He added that the materials currently recycled are "the only recyclable products of any quantity."

Turner offered a different opinion. "I don't know if they expect the program to pay for itself," she said. "It might not be a profit maker." Turner speculated that plastic, particularly drink bottles, is a prevalent commodity on campus.

Turner suggested that students take the responsibility of starting the program to recycle plastic bottles and conduct a waste audit.

According to Turner, a waste audit involves analyzing the contents of several waste containers over a period of time and recording the percentages of each commodity present. She suggested that the students show their results to Plant Operations. "The proof is in the pudding," she said.

Turner also suggested that the college seek out a grant to cover the expense of starting a plastics program. She said that there are several grants (both state and national) available, but that they have already been awarded for the year. She said that the grants would be available for the fall of next year, however.

One aspect of the program that would be beneficial would be a reduction in waste. Harrison says that the custodians are reporting more garbage and that the garbage trucks come more often.

Turner said that a plastics program would reduce the amount of waste, making garbage pickups fewer. Turner feels that a plastics program would help to reduce costs in the end.

The current plan would have to be modified in order to accommodate the pickup of plastics. Plastics receptacles would be needed, as well as a separate bin for the storage of the accumulated plastic.

The same baler that compacts the cardboard into bales can be used to compact the plastic and the same truck that transports the recycled paper can pick it up, according to Turner. "There would be some expense involved," she said.

Turner said that many things could be done with the plastic collected. "We send it to two different local mills that make carpet out of it," she said.

Expansion of the recycling program is not currently being discussed by the administration. "It hasn't come up at any of our cabinet meetings. My guess is that right now what we're doing is meeting the need," said Pierce.