Fall Frenzy 2003!

By Amanda Cordle
[email protected]
Staff writer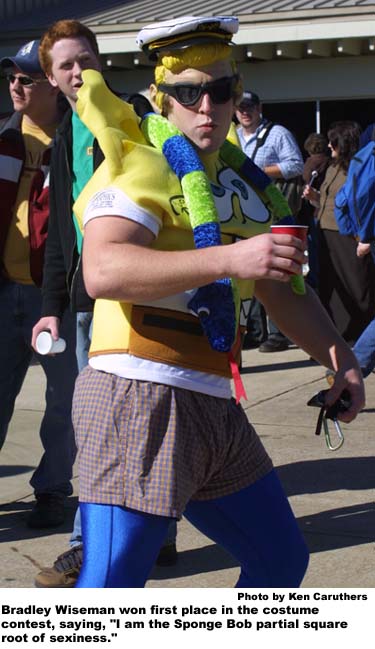 Music filled the air as students, faculty and staff sported creative costumes at this year's Fall Frenzy.
The annual fall festival, held Oct. 29 from 10 a.m. to 2 p.m. in the student activities area, took on a Halloween carnival theme.
Members of the Georgia Highlands College chapter of Phi Theta Kappa, a national honor society, handed out temporary tattoos and body stickers. Another table was set up for students to vote for the new paint color of the student center.
Nakia Brinson from the Access Center was serving Paris Lake punch with frozen sign language hands instead of ice cubes. Erik Sanders ran the music for the cakewalk sponsored by the Student Professional Association of Georgia Educators (SPAGE)
Laser tag drew a large crowd of students. "It's really dark with lots of cover areas in there. It was pretty tactical. It makes me want to join the military now," said Trey Tanner after leaving the tent as part of the victorious green team.
After playing laser tag, students could refuel with free water and juice being handed out by Frank Murphy, adviser for the Baptist Student Union.
Tyler Collum, editor of the "Old Red Kimono," manned the dart-tossing booth. After a student successfully popped a balloon, he or she was given a word with which to write a haiku.
In the costume contest, first place winner for the student competition was Bradley Wiseman. Second place went to Tyler Collum, who was dressed as a "sexy hula beast" and third place was awarded to Julianna Hunt, dressed as a character from the novel "Sense and Sensibility."
The first place winner of the faculty/staff competition was Dr. Nancy Applegate, associate professor of English. Second place was given to April Radomski, secretary in the Counseling and Career Office.
The director of student life, John Spranza, and Bo Bowling, Student Engagement Council secretary, grilled burgers for students. Pizza was also available.
Laura Musselwhite, associate professor of history, said, "Student Life has come up with a good way to get students to have fun and also a way to get out and work for their organizations." .