Enrollment up average of 21% for all five FC Campuses

By Brian S. Armstrong
Staff Writer
The halls of Floyd College are packed more tightly than ever. Enrollment has skyrocketed for the fall 2002 semester; the population of students at all five FC campuses has increased to almost 2,900 students.

This includes 1,501 at the Rome campus, 279 at Heritage Hall, 660 at Cartersville, 683 at North Metro, 180 at Waco and 34 via Georgia Globe.

Dr. Randy Pierce, president of Georgia Highlands College, said, "I feel like it is a combination of things … part-time students are coming back, the economy, and the lowering of the technology fee." He added that he thought a lot of the students the college lost left because of the high technology fee.

In the past semesters the technology fee has been as high as $300; it has now been lowered to $50 this semester. This makes Floyd more affordable for part-time students since they are no longer required to lease a laptop.

New computer classrooms are in place around the campus that alleviate the need for everyone to have a laptop computer. This is part of the new technology plan initiated by Pierce.

"When the economy goes down, enrollment goes up," said Pierce. In the past year the economy has been low. Many companies are laying off workers. The job market is unstable and many people have been forced out of work.

There are 21 percent more students on the average at all five campuses combined. The increase for each campus is as follows:

--Rome is up 21%
--Cartersville is up 27%
--North Metro Tech is up 14%
--Heritage Hall is up 30%
--Waco is up 13%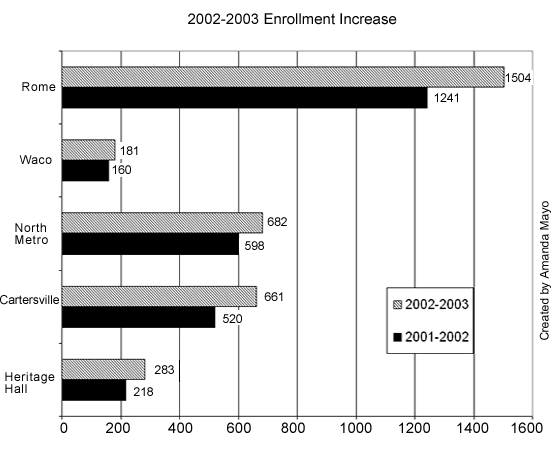 Increased traffic is noticeable to anyone standing in the student center between classes. As a result, more students are spending time, and money, in the game room. More money spent in the game room means more money for student activities.

The increased enrollment is painfully evident in the parking lots. The parking spaces are filled to a level that has not been seen in the past.

The lines in the bookstore are another place that the increase in student population is apparent.


Barbara Rogers, assistant auxiliary director, said, "More students are coming in for Charger Cards and Charger Card renewals. Also there has been increased usage of the copy machines and the VTS (value transfer station) machine."

Rae Moody, a sales associate in the bookstore, said, "There is more traffic in the bookstore. People are buying more pens, paper, medicine and drinks."

All of the money generated from the larger student body is very helpful to the students that attend.

All of the 21 percent of new students are required to pay technology and student activity fees.

This helps fund new things on campus such as the new computer classrooms, a new resurfaced trail around the lake and new student organizations, as well as previously existing clubs and organizations.

This new enrollment growth of the college is expected to continue with the completion of the new Bartow Center in the future.

This larger campus in Cartersville will be able to accommodate more students in that area. Currently the Cartersville campus is fairly small, leaving little room for growth.