Budget cuts force closing of Waco campus

By Bobby Moore
[email protected]
Staff writer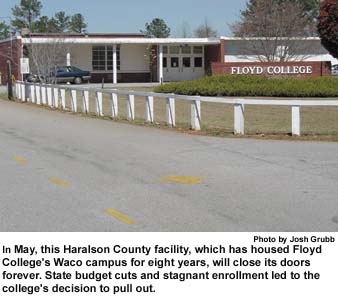 The Waco campus in Haralson County will close its doors at the end of the semester.
The campus, which opened in 1996, is a casualty of a 5 percent budget cut proposed by the Chancellor's Office for 2005.
According to Georgia Highlands College President Dr. Randy Pierce, the elimination of the Waco campus "was only a matter of when." He said, "It was not something we liked doing, but no other good choices were left."
At Waco, the campus has steadily averaged from 150 to 160 students per semester.
This is a very flat enrollment compared to the Rome Campus, which grows 15 percent per semester, and the Acworth and Cartersville campuses, where enrollment has seen a 20 percent increase per semester.
All full-time faculty members at the Waco campus have been placed elsewhere.
Dr. Nancy Applegate, associate professor of English, has taught at Waco two days a week every semester over the past five years.
Applegate said, "I did not mind the drive, but I will enjoy being in Rome with my colleagues all week. I'm sad it is closing and I understand why, but I hope something is done in the future to serve this group of students."
Susan Claxton, former Waco campus director, is very emotional about the closing. She said, "The Haralson County campus was like a miniature family. It is where I got my first college teaching experience. I loved all my students, and they gave me my first doses of confidence as a teacher. It (Waco) is one more spoke of the wheel that makes me the person I am today."
Some students, especially non traditional students, will be hindered by the closing.
According to Pierce, "We try to make decisions that will have the least impact on students, but we are to the point where that cannot be an option. We know that there will be a negative impact and we may lose some students."
Melissa Stevens, a student worker at Waco, is among those who will be affected. She says, "I will have to find employment elsewhere this summer. I know I will be okay since I will probably be at the Rome campus in the fall, but I feel bad for others."
Stevens feels that more promotion would have helped the Waco campus, especially after the opening of West Central Technical College.
Students from Waco will be assisted in finding a schedule next fall if they are interested in attending another FC campus.
An attempt will be made to give students a Monday-Wednesday or Tuesday-Thursday class schedule to help cut down on travel time and expenses.
Pierce said, "We hope for those students who have enough hours to transfer to West Georgia or Kennesaw State or another local four-year college."
When asked about the closing and its effect on the entire FC community, Pierce said, "Anytime you can make yourself a little more efficient, it is like taking off a little weight and becoming leaner."