New student life director, John Spranza, looks to bring stability to office and do things differently

By Eric Rose
Staff Writer
The new director of student life is Georgia Highlands College alumnus and former Six Mile Post graphics editor John Spranza.

Although the Office of Student Life seems to have been a revolving door in the past years, Spranza says stability is a goal.

"That's definitely a goal of mine, to get some continuity into the office," he said.

He says that his main task is "settling in and trying to get programs and events scheduled for spring." He describes the settling in process as "a lot of files to go through, a lot of reading and a lot of research."

Spranza has been keeping contact with student organizations and organization leaders since coming into the director's position.

"Everyone seems very positive; hopefully we will get more feedback soon," Spranza said.

Once settled, he hopes to address specific goals. "Our main goal is to get as many students involved as we can," he said.

Spranza also expressed interest in the growing population of non-traditional students.

"The non-traditional population here is a large part of the student population we want to get," Spranza said.

According to Spranza some sort of non-traditional student organization is on the horizon.

Another goal is to serve the satellite campuses more thoroughly. According to Spranza, "Serving all of the campuses is a goal; we want to better serve all of our students."

That includes students with special needs. "We are going to work in conjunction with the student development department and the disability support center to see how we can better serve those students," he said.

Spranza says that the overall goal of student life has changed in recent years from being solely a provider of activities to being a facilitator for students getting involved.

Encouraging students to become involved by offering activities and programs they want is the current mission of student life. Spranza hopes to find what students want by relying on input from student leaders and from other students as well.

"You really have to rely on students who are involved. They have their ears to the ground," he said. "We also have to rely on the other students to tell us what they want to see and what's going to get them involved."

One way Spranza hopes to encourage students to get involved is through the "emerging leaders" program created by Sue Tarpley, interim director of student life. The program requires faculty members to find students who are interested in leadership opportunities.

After being nominated by faculty members, students are introduced to leadership through various programs including Extreme Orientation and the North Georgia Crescent Alliance.

Spranza hopes that the program will help the office to recognize high potential students. Spranza said the program is intended to allow students to "jump right into leadership positions on campus."

The leadership program is a work in progress. Spranza is working with Dr. Penny Wills, vice president of Student Development, along with other faculty and staff. The program is beginning its second year.

"It is an open-ended program right now. Dr. Wills and I are working diligently to try and finalize everything," he said.

Spranza attended Georgia Highlands College from fall 1990 to spring 1992. He then went on to the State University of West Georgia. There he received a bachelor's degree in history and a master's degree in public administration, with a concentration in higher education administration.

Since his time as a student at FC, Spranza has worked for the Cedartown Standard newspaper and in the Admissions Office of the State University of West Georgia, where he was an admissions counselor. He started counseling high school seniors and moved on to counseling transfer students before coming to Georgia Highlands College.

Former student life director, Ashley Wood, resigned last summer after just one year in the position. Tarpley took her place as an interim and served this past semester. Tarpley was formerly director of student life at Berry College.

A search committee selected Spranza last semester. The committee consisted of Sheryl Ballenger, director of disabilities support; Dr. Jon Hershey, associate professor of English; Kristi Casey, accountant I in the Office of Accounting Services; and students Al Miller and Amit Patel. In the selection process candidates were required to give presentations to both students and the search committee.

In his free time, Spranza enjoys spending time with his family. "The biggest thing is my family," he said. "I like football and I like reading when I have time," he added.

Since the time he attended FC, Spranza said the college has not changed much, at least fundamentally. "Floyd itself has changed a lot, in a sense of physical changes," he said. "But there are the same friendly, welcoming people. That's comforting, to see familiar faces."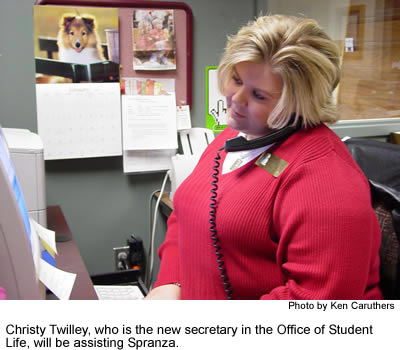 Asked to describe his expectations for the new semester in a single word, Spranza replied, "The word 'different' comes to mind because it is going to be a different thing, not only for myself, but also for the students."

Assisting Spranza in the Office of Student Life is new secretary Christy Twilley, replacing Gail Bentley, who left to take a position with the State University of West Georgia.