Students volunteer to promote writing and creativity at Anna K. Davie School in Rome
By Sam Chapman
[email protected]
Editor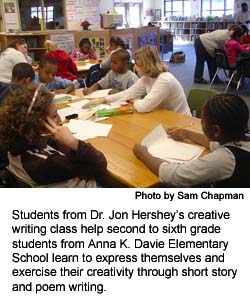 Some of the Anna K. Davie Elementary School students may grow up to be the next generation of young writer's from Rome to blow reader's minds with crazy tales of fantasy and fiction.
Since September 2004, Dr. Jon Hershey, professor of English at Georgia Highlands College, has been conducting an after school writing class for Anna K. Davie Elementary students ranging from second to sixth grade to help expand their creativity.
During the class, Hershey, along with seven students from his Georgia Highlands College creative writing class and his assistant Chris Lundy, a general studies major from Rome, create writing exercises for the elementary school students that Hershey hopes will advance their writing skills.
"The overall goal is to improve their writing and make it enjoyable," said Hershey.
In the class, the students learn about how to apply imagery, emotion and creativity to their writing through different projects such as writing various names, nouns and verbs on index cards and creating a short story from just those words. Sometimes they write specifically on bugs or sports.
"This is a valuable experience for these kids to use as an artistic outlet," said Hartwell Brooks, a psychology major from Calhoun who is a student volunteer currently in Hershey's class.
Although the projects may specify writing on only one topic, every word that goes on the page comes from the creativity of each student's mind. "It's cool to do this and express myself through writing," said fifth grader Demarcus Johnson.
The students are selected for the afterschool sessions by the principal of Anna K. Davie School based on who would be most interested and take advantage of the class. Anna K. Davie students must have their parents' permission to participate in the sessions.
The students will hold a reading from a collection of their writings on April 18 at 6 p.m. at the Joy Life Center, which is part of the Lovejoy Baptist Church located near the school at 301 Nixon Avenue.
Click here for Anna K. Davie writing samples and more photos.