College goes through a time of transition
By Lindy Dugger
[email protected]
Assistant Editor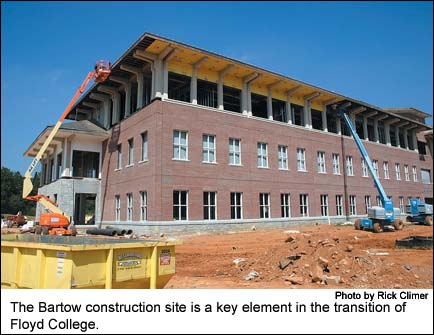 Many changes are coming to Georgia Highlands College.
According to Dr. Randy Pierce, Georgia Highlands College president, Georgia Highlands College students and the surrounding community can look forward to the possible addition of more four-year programs, new campuses and even a name change for the school.
This, he says, is due to the rapid population growth in northwest Georgia around the I-75 and U.S. 278 areas. "It's like this big blob is moving to the north and west from Atlanta," said Pierce.
Currently, 36 percent of Georgia Highlands College students are coming from Bartow and Cobb counties. Only 29 percent are from Floyd County. The remaining students travel from Chattooga, Carroll, Haralson, Polk, Cherokee, Paulding and Gordon counties.
Pierce explained that in an effort to become a regional institution and serve the growing needs of the surrounding community, Georgia Highlands College has entered negotiations with Southern Polytechnic Institute in Marietta to "share space" by offering classes on the Southern Poly campus. This way students not yet admitted to Southern Poly could take core classes from Floyd on the Southern Poly campus with plans to transfer later, without having to relocate.
Georgia Highlands College's Acworth campus will move from its current location on the North Metro Tech campus into the old Woodstock Elementary School campus, which was vacated last year. Plans are to share this space with Appalachian Technical College and Reinhardt College.
According to Pierce, the Cherokee County and the Woodstock City Commission will be financing part of the elementary school's renovations.
If all goes according to plan, the Woodstock campus should be open by fall of 2005.
Pierce said that construction of the new Bartow campus is on schedule and the building should be open for the 2005 Maymester.
With the opening of campuses in Woodstock and Marietta, as well as the new Bartow campus, Georgia Highlands College will have campuses in Floyd, Bartow, Cobb and Cherokee counties.
With campuses in four counties by 2005, Pierce said that many people believe the school's name, which was derived from Floyd County, the location of the college's original campus, will no longer be appropriate.
"While we recognize and deeply appreciate the role of Floyd County in the establishment of the institution almost 34 years ago, as a state-funded institution we have an obligation to continue to serve as a point of access for an even broader geographic region," Pierce stated.
Last year Georgia Highlands College proposed a name change to the Board of Regents. According to Pierce some names being considered include Georgia Northwestern College, Etowah College and Georgia Foothills College. Pierce also said that he welcomes any name recommendations, but that the name should be something that captures or identifies the larger geographical region that Georgia Highlands College serves.
While the Board of Regents is open to suggestions for the name change, it will make the final decision as to the college's new name. The decision is expected around April 2005.
At the same time Georgia Highlands College requested the name change, the college also requested a mission review of its educational role with the hopes of soon being approved to offer more four-year programs to the community, Pierce said. The Board of Regents must approve this change as well.
While Floyd will continue to offer bridge programs in nursing with West Georgia and Kennesaw, the college hopes to offer its own four-year business and education programs. Georgia Highlands College will continue to offer its two year degree programs, Pierce said.