New students get a healthy dose of college life

By Sandy Watkins
[email protected]
Staff Writer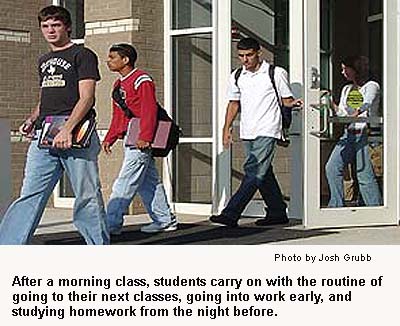 Enrollment is up about five percent to 3,442 students with a rise in traditional freshmen, according to Sandie Davis, registrar.
Brandy Brownlow, a recent Coosa High School graduate, said that adjusting to college "is a little harder than I expected and sometimes overwhelming."
"I think it's pretty fun so far. It's what I expected," said Joseph Reitman, a new student and general studies major from Cartersville.
Trey Goble, a Chattooga High School senior who is also a Post Secondary Option student attending Georgia Highlands College, said, "I just love it. I have so much more free time."
Colin Williams, a traditional student majoring in business administration from Rome, said, "Some classes are harder and some are easier than I thought. I like the more adaptable schedule and I have time to do other things."
Speaking for many returning students, Cicely McDaniel from Lyerly, who has been attending Floyd for about four years, said that she is particularly feeling overwhelmed this semester trying to balance a full-time job with a full-time class load.
"You'd think that I'd be used to it by now; but this semester I just can't get into the swing of it. Every semester is different and some are better than others. I just need to find a routine that works," McDaniel said.
Starting a new academic year is also challenging for faculty, according to Dr. Ralph Peters, professor of sociology.
"Each semester brings a new and different schedule. You never know what campus you will be on or if you will have night classes or both. You just have to get used to the schedule and balance work with your personal life," Peters said.
To handle the increased enrollment, the college has hired 13 new faculty, according to the College Relations Office.