Dr. Davis retiring but plans to return to FC to teach part-time

By Rusty Casey
[email protected]
Staff Writer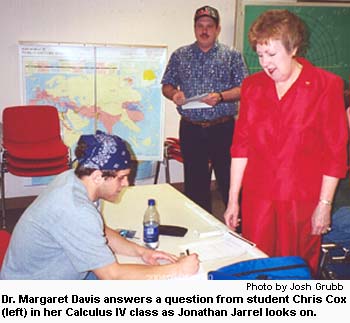 Margaret S. Davis, professor of mathematics, will be retiring this May after teaching for 36 years, 33 of which were at Georgia Highlands College.
After receiving her B.S. in Math and Education from Jacksonville State University, Davis began her teaching career at Cherokee County High School in Alabama in 1968.
After teaching for a year, Davis went back to school and received her M.S. in Mathematics from the University of Alabama. After receiving her masters Davis taught at Trion High School for two years before coming to FC in 1971.
While at FC, Davis drove to the University of Alabama Birmingham at least two days a week for many years to receive her Ph. D. in 1995 in biostatistics in which she wrote over 120 computer programs.
During her teaching career she has been published in JADA in March 1995, named to Who's Who Among Teachers in America in 1996, won the Regents' Teaching Excellence Award and the Wesley C. Walraven Faculty award.
Since Davis has been at FC, she has taught every math subject that has been offered and has witnessed numerous changes in the school and the students.
As for the school, Davis has seen a huge change in technologies and in resources for disabled students. "In 1971 nobody who was disabled would come to FC, but now there are more opportunities for disabled students," said Davis.
Davis has also seen FC go from teaching two-year programs to offering some four-year programs from the State University of West Georgia and Southern Polytechnic State University. Davis said, "I'm really excited about the four-year programs and would like to see more four-year programs offered at FC."
For the students, Davis notes how in the 70's the college saw many veterans from the Vietnam War and in 80's everybody seemed to want to get a degree in business.
Since the early 90's, Davis has noticed that many students have turned to "helping" degrees like teaching and nursing.
When asked what she will miss the most about teaching Davis said, "I'll miss my friends that teach here the most."
For the future of the math department Brent Griffin will take over Davis' role as math coordinator.
As for the future for Davis' she doesn't plan to be away from teaching for too long. She is planning on retiring and then returning to FC to teach part-time in the fall after taking the summer off.