New recycling loan fund developed to assist students in time of financial emergencies

By Kenneth Tucker
[email protected]
Staff writer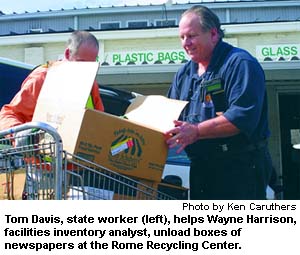 The Recycling/Emergency Loan Fund (R/ELF) is a new program designed to give students financial help when unexpected emergencies arise.
Money collected in the fund will be loaned out to students who have unexpected economic problems affecting their ability to get an education.
For example, the loan fund might help a student pay for a required textbook or for repairs to a disabled vehicle, according to Dr. Penny Wills, vice president for student development.
Wills said that since it is very hard to define the term "emergency," the amount of help a student gets will be determined on an individual basis.
Wayne Harrison, facilities inventory analyst, coordinates the campuses recycling efforts. He expects the program will be a tremendous success and urges students to recycle all they can.
Ink jet cartridges, aluminum cans, plastic bottles and old cell phones are some of the primary recyclables.
Other materials recycled on campus such as cardboard, leaves for compost, florescent bulbs and old batteries will not bring in money for the R/ELF program.
Any student who recycles at Rome Recycling Center can help the fund by requesting the money received be deposited in the Georgia Highlands College account.
If students take their recyclables elsewhere, they can deposit the money at Georgia Highlands College.
Wills said, "I very much believe in recycling, and I hope students will share in this enthusiasm."
Wills points out that student participation is crucial for the project to succeed.
Cicely McDaniel, a nursing major from Summerville, said, "The program sounds like a very good thing, and I will definitely do my part to help, but I really don't think student participation will be all that high. People just don't seem to care all that much about recycling. I hope I'm wrong."