Red light cameras at Turner McCall now operational

By Lindy Dugger
[email protected]
Assistant Editor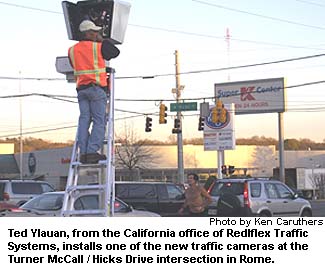 When the opportunity presented itself for a $150,000 federal grant to improve the safety of Rome's traffic, Kirk Milam took it.
Milam, director of public works in Rome, in conjunction with the Rome Police Department, proposed the idea for traffic security cameras nearly four years ago.
According to Milam, information and technology was available for such a project but monetary means were not.
The cameras, manufactured by Redflex Traffic Systems of Scottsboro, Arizona, use sophisticated digital software to film motorists running red lights.
Both video and still shots are sent to a laboratory at the Redflex headquarters in Scottsboro to be reviewed for accuracy.
Film of any possible offenders is then sent to the police station in Rome, where a trained officer reviews the photographs one final time and decides whether or not the motorist in question has indeed run the light.
If so, a $70 citation is issued by mail to the owner of the offending vehicle.
"The Turner McCall / Hicks Drive intersection was selected for the camera because of its large volume of traffic and significant accident history," said Milam. "It's also one of the first intersections entering town, and people don't always slow down."
According to Major Travis Goss of the Rome Police Department, March, which is the first month of operation for the cameras, is a grace period for motorists; only warnings will be issued. Beginning April 1, citations will be issued.
Initially, 50 to 60 citations a day are expected, Milam noted, but probability shows that once motorists become aware of the camera, the number should decline and hopefully stabilize at less than 20 citations a day. Motorists can contest their tickets.
However, said Milam, the Redflex cameras film violating vehicles before they enter the intersection during a red light and as they pass under the light; therefore, proof is evident and margin of error is very slim.
Bobby Vann, director of traffic and electric at Rome public works, stated that the cameras were planned to be in operation by the first of the year, but due to some technical difficulties, operation had to be postponed. Redflex employees installed the system during February.
The cameras only monitor the Turner McCall passage while the light is red.
"That red light cycles approximately 600 times a day. When it does cycle red, somebody always runs it," said Goss.
Both Goss and Milam expressed the need for these cameras to improve traffic safety in intersections.
"The goal is to get people to stop running red lights and to reduce accidents. The goal is not to get money but to improve safety," added Milam.
According to the RedFlex web site www.redflex.com.au 260,000 accidents are caused each year by motorists running red lights, and around 750 of these accidents are fatal.
Rome has a two-year contract with Redflex Traffic Systems, which includes purchase cost of the cameras, installation and two years of maintenance. After the contract runs out, the cameras are self-sustaining and will not draw additional funds from the city's budget.
The revenue from citations will fund operation and maintenance.
According to Milam, Georgia State law prohibited the use of such cameras until 2001 and the passage of House Bill 678, which amended Title 40 of the Official Code of Georgia. Though operation is now legal, Georgia law restricts how the revenue is spent.
In addition to maintenance and operation of the cameras, money from the citations will be used for traffic safety expenses. Revenue can also be used to purchase additional cameras in the future.
"Only one camera is in place in the Rome area as of yet," stated Milam, "but there are a lot of other intersections that could use them."
Savannah has had the Redflex red light camera system since October 2003. Savannah now shares its software with Rome.
Other locations in Georgia that have similar camera systems include Marietta and Decatur.