Advising and early registration for spring 2005 semester now underway
By Sandy Watkins
[email protected]
Staff Writer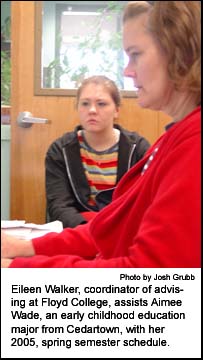 Current students who have been advised and have no holds may now register themselves on the SCORE/BANNER link on the Georgia Highlands College homepage.
Instructions for registering on the SCORE are on page 10 of the spring 2005 academic class schedules currently available on all four campuses.
For first-time users of online registration, the PIN is the last four digits of the student's social security number followed by the digits 99. The PIN may then be reset as desired.
"If you disable your PIN or have difficulty accessing the SCORE, contact enrollment management and it will be reset," said Sandie Davis, registrar.
"If a student has a hold (academic, financial, etc.) they may visit the Registrar's Office or the Advising Office for assistance," said Eileen Walker, advising specialist. "Students who attend other campuses may also contact their center director."
Advisers are listed on the SCORE transcript based on campus and field of study. Students who don't have an adviser may email the Advising Office at [email protected] and will be given one.
Students who have financial aid in the fall usually don't have to reapply in the spring, but they can check with the Financial Aid Office and verify that all paperwork is in place and on time.
For students with documented financial aid, schedules will not be deleted until Jan. 6 at 5:30 p.m.
Fees are due for other pre-registered students by Dec. 17 by noon, or the schedule will be automatically wiped out of the system.
It is the student's responsibility to make sure that fees are paid and/or financial aid is in place to avoid having his or her schedule dropped after these deadlines.
For those who plan to graduate in the spring, the deadline for application is Dec. 15.
Graduation applications should be submitted to the Enrollment Management Office for degree evaluation with the applicable fees to graduate.
"If you have any advising questions, you may visit the center directors, the Advising Office in W-201 in Rome or for further information or questions, email the Advising Office ," said Walker.
Students may register and drop/add until Jan. 14 at noon.