Not considered your 'average' FC student
By David Winters
[email protected]
Staff Writer

and
By Sam Chapman
[email protected]
Editor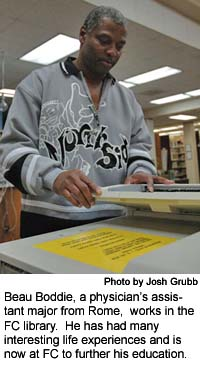 The people you pass in the hallways may look like average people, but each person is like an unread book full of memories and experiences that some only dream about.
Beau Boddie is one of those students.
Throughout the early part of his life, Beau had unknowingly involved himself with many famous – and infamous – 60's and 70's icons.
"Berkley was the place to be in the 60's," said Beau.
In the early 60's, when Beau used to play basketball with his neighbors, he didn't pass the ball to one of his early companions Sylvester Stewart, who, unbeknownst at the time, would later became Sly Stone, the front-man for the funk and soul band Sly and The Family Stone.
"I still remember him as a little kid saying 'C'mon man, pass the ball, pass the ball'," said Beau. "He wasn't one of the better players."
Sly Stone wasn't the only future celebrity that Beau knew as a child.
Throughout his school years, he was friends with Lenny Pickett, the saxophonist for the early 70's rock 'n' funk band Tower of Power.
Beau also saw Jimi Hendrix in concert up close, and for free. "It wasn't like going to a concert now where it's more about the artist than the music. Hendrix just got on stage and did his thing," he said.
Beau's life hasn't been only celebrity oriented. One of Beau's passions is helping his fellow man. In 1968 he caught the revolution fever and, with many others, picketed an International House of Pancakes for not hiring African-Americans.
Intrigued by veterans coming home from Vietnam, Beau decided to pursue one of his childhood dreams and enlisted in the Marines to serve his country.
In 1972, he was assigned to the Marine 1st Recon Battalion in Camp Pendleton, CA. He was then sent into action during the American pullout of Vietnam and was wounded by a gunshot to the leg. After being promoted to sergeant, he left the service in 1976.
After his time in the Marines, Beau decided to follow another one of his dreams, medicine. He went back to Washington, D.C., his birthplace, and became a neo-natal paramedic. His primary responsibilities were taking care of infant intensive care cases and dealing with high risk maternity cases such as mothers with health problems and babies with high risks of being born with problems related to parental drug abuse.
After many years, he later became the director of Shepherd's House in Conyers, Ga. At the Shepherd's House, Beau helped former prisoners during a 90 day program to get back on their feet after being in prison.
In 2002 Beau decided to return to furthering his education. "Someone told me about this little place called Rome and said that there were some good schools here, so I came up here and fell in love with the weather," he said. So Beau went back to school to study to be a physician's assistant.
In addition to pursuing his degree, Beau works for the AIDS Resource Council, Inc. in Rome as a counselor. Beau says that helping people deal with AIDS is one of his greatest feelings.
Being able to help someone and hopefully make a difference, he feels, is truly a great thing.
Now, Beau is trying to simply get through math and the other obstacles of Georgia Highlands College.
He is currently working also as a student worker in the library. He says that his life has been fun and that he looks forward to the rest of it.
"It's not what you do in the year you were born and the year you die that count, it's what happened in between that matters most," he said.