GHC English department celebrates Mardi Gras at Paulding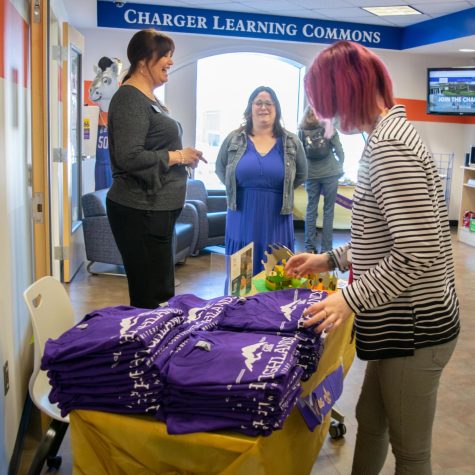 The GHC Paulding campus celebrated Mardi Gras on Mar. 1 by hosting an assembly of booths that was sponsored by the English department. It was held in the lobby of the recently renovated Charger Learning Commons on the second floor of the Bagby building.
Mardi Gras, French for Fat Tuesday, is a cultural celebration deeply rooted in southern Alabama and New Orleans, La., as far as it is celebrated in the US. It marks the last day of being able to indulge in hearty foods before Ash Wednesday, when Lenten fasting starts in Christian culture.
"I try to give our faculty and staff the opportunity to celebrate all holidays, so we also try to do something on Mardi Gras," Paulding site manager Christina Henggeler said. "I wanted to extend it and bring it to the students this year."
Mardi Gras themed bead necklaces and gold paper crowns were provided to attendees along with king cake, a Mardi Gras tradition. Zydeco, a French Creole music genre that evolved in southern Louisiana, was broadcasted on all the TV monitors around the Paulding campus to pique student interest in Mardi Gras.
The event was celebrated with the dual purpose of promoting GHC's Humanities department and informing students with everything it has to offer. Interim Chair of English Julia Reidy, English professor Danny Bellinger and Old Red Kimono faculty advisor Jake Sullins were among the School of Humanities staff that attended.
"We decided that it would be a good idea to tie all these things into one," Bellinger said. "It's good to help students know what we offer in Humanities." 
Bellinger teaches literature, composition, creative writing and African-American literature at the Paulding campus.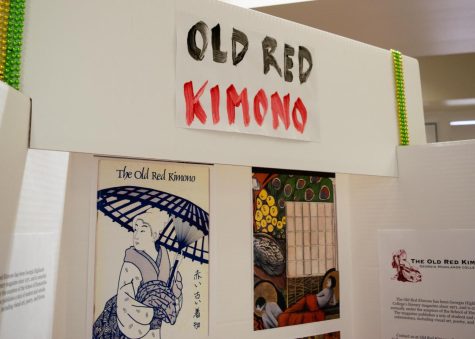 "African-American literature is open for all students and anyone who appreciates literature will really appreciate this class," Henggeler said. "I want everyone to know how fun it can be."
The Highlands Writer's Conference, a one-day program that lets aspiring writers learn from published professionals, was also promoted during the Mardi Gras event. It is sponsored by GHC's English department and held annually at the Cartersville campus.
"It's encouraging for young writers, I think," Bellinger said. "It's always just good to be around other writers, to get advice as well… So hopefully, students will attend." 
Bellinger added that he likes the breakout sessions at the conference that allow attendees to talk to the writers and ask questions about the writing process, publishing, etc.
The Highlands Writer's Conference will occur Mar. 12, 9 a.m. to 5 p.m. It will feature screenwriters, Pulitzer Prize winning authors and podcasters. GHC students can attend the conference for free by signing up here. There is a $25 registration fee for non-students.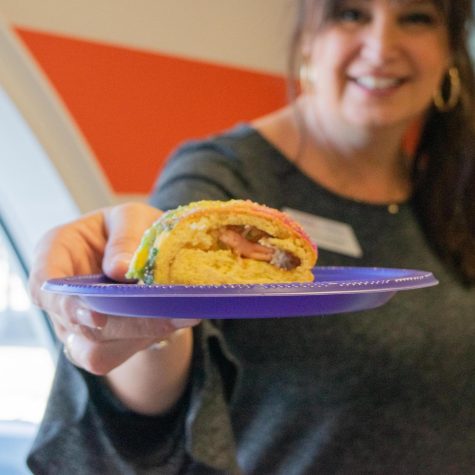 The choice to promote GHC Humanities in celebration of Mardi Gras was not random, as the culture of New Orleans is closely linked to literary and visual arts.
"New Orleans is such a hotbed of creativity, whether it's people painting in Jackson Square or William Faulkner living there or John Kennedy Toole…" Sullins said. "New Orleans just has such a rich literary and artistic culture that it's hard to imagine literature and the arts in this country without New Orleans and the stuff connected to it."
Michael Barber, a business administration major and Veteran Affairs FWS employee, said that more students should attend events like this one at Paulding so it will encourage future events taking place.
"It's always nice to see something going on because this campus is so small," Barber said. "It's nice to see something else going on."