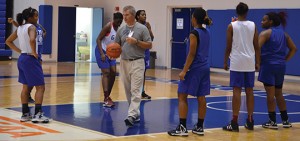 The men's and women's basketball teams are more than eager to get the 2013-2014 season underway.
The Chargers will start their season by playing Cleveland State College in Cleveland, Ga., on Nov. 1.
The Lady Chargers will be starting the season off by travelling to Morristown, Tenn., Nov. 1.
Phillip Gaffney, athletics director and men's coach, stated, "Cleveland State had a good team last year." The men's first opponent was ranked in the top ten during the 2012-2013 season.
Having had a disappointing season last year, the men's team is ready to show their improvements on the court. Gaffney stated, "The first three games will tell how the season will be."
Returning player Matt Welch is very excited to start the new season. Welch said, "This year's team is more focused, dedicated and set on the same goals."
New team members Joe Bigham, Dominique Lindsey, Montrel Goldston and Jake Driscoll all feel very prepared and ready to get this season started.
The team's first home game will be Nov. 13 against Gordon College.
With the Lady Chargers finishing the 2012-2013 season in the top ten, they are prepared and excited for a new season with their newer and younger team.
Women's Head Coach, Brandan Harrell, stated, "Three out of five of the first games are against high ranked schools."
The Lady Chargers won't be playing a game on the Georgia Highlands campus until Nov. 23, against Georgia Northwestern Technical College.
The women's team will be travelling to eight games at the start of the season. "Playing on the road will be tough, but we will see how the team will grow," Harrell said.
Returning players Shakierya McClendon, Amber Curtis and Siera Bubb are excited about the new season and are more than ready to get on the court. McClendon, Curtis and Bubb described the new team as dedicated to each other and very talented.
New team members China Henderson and Aujana Dawkins are looking forward to their first season on the team. Both feel prepared and excited to start the year as college athletes.
Both teams are ready to rumble for the 2013-2014 season. However, each team specifically stated their need of more student support. They believe having the student body behind them will increase their motivation and influence how well they play this year.