GHC basketball cheerleaders prepare for 2013-2014 season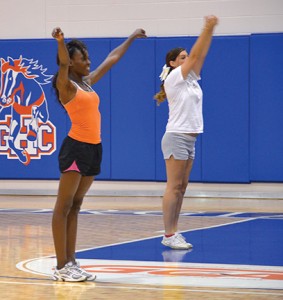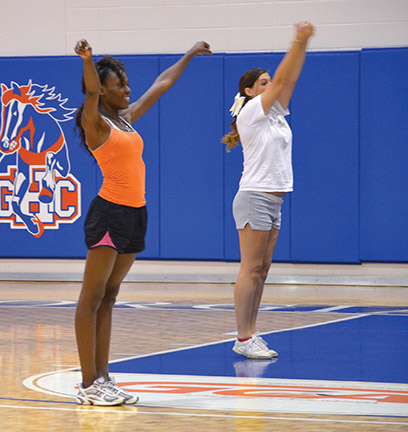 The Georgia Highlands basketball cheerleaders are preparing to cheer the Chargers to victory.
The squad of 14 consists of former high school cheerleaders, all-star competitors and a few inexperienced students. There are four returning from last year.
Megan Davidson, head cheerleading coach, and assistant cheerleading coaches Stephanie Loveless and Haley Henderson are very pleased with the way the team is shaping up.
Davidson stated, "We have many different levels of talent this year, and that's the good thing. Everyone has an opportunity."
Returning members Kasey Dean, Taylor West, Tianna McCrary and Paige Fosha are excited to start cheering at the games.
"This year's team is more committed and very eager," Dean said. "We are more enthusiastic."
McCrary said, "We are much louder, and the new girls are catching onto the cheers very fast."
Karly Davis and Megan Keeter are two of the new cheerleaders.
Davis and Keeter both agreed that they are having a lot of fun cheering for Georgia Highlands, and they have made new friends within the team.
"Everyone wants to cheer," Davis said. "Unlike in high school cheerleading, there's no drama."
The squad will be showing off their school spirit at all of the home games this upcoming season.