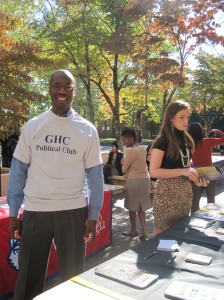 Oct. 3 marked the start of the Marietta and Paulding campuses' first ever Passport to Success, a personal improvement event that included a career fair, a college fair, interviewing tips and tips for living a healthier lifestyle.
At the Marietta campus, Associate Professor of Communication Laura Beth Daws and Student Life Coordinator Alexis Carter partnered with business leader Liberty Mutual to empower students to apply, and also held mock interviews for them to gain knowledge about entering the job field.
At the college fair, recruiters from Valdosta State, Kennesaw State, University of West Georgia and Clayton State handed out pamphlets about their most popular programs and answered students' questions about transferring.
Fashion show participant and Georgia Highlands communication major, C.J. Brown said, "It benefits anyone who participates, especially those who don't know where they're transferring to."
Both campuses held a fashion show, with students and faculty modeling the best and worst interview outfits. A guest model for the best interview outfit at the fashion shows, local business leader Ryan Jones, relates that although dress code is not the deciding factor for a job, it is still important. "Studies have shown employers form an opinion of you in the first seven seconds," said Jones.
Daws relates the importance of a successful interview, saying that "the worst offenders are those who dress inappropriately, sound uniformed about the company, say they have no weaknesses and fail to follow up with a hand-written thank you note."
Alexis Carter said the events "had a great turnout" and that "it gives students a better sense of what to do, from acing an interview to becoming more professional."